Chicken Salad: Cowboy-Approved
Let me tell you something about my Cowboy. It pains me to say this, but my husband is… *gulp* …not…paleo. I know I know. This is sad. I am working on him. Slowly but surely. Every now and then I will sneak a paleo meal in on him, and wait anxiously for him to tell…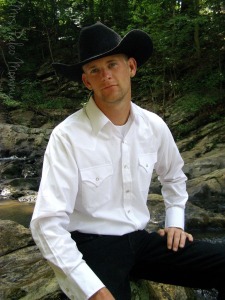 Let me tell you something about my Cowboy. It pains me to say this, but my husband is… *gulp* …not…paleo. I know I know. This is sad. I am working on him. Slowly but surely. Every now and then I will sneak a paleo meal in on him, and wait anxiously for him to tell me he loved it, just so I can say "you SEE! Paleo food IS good!". Most of the time he does, in fact, LOVE it. Unfortunately, because he had to suffer through the first few weeks of my paleo flops, I can understand why he is a little hesitant. Give me a break though. It was hard enough to have to start all over in the kitchen and re-learn how to cook using paleo ingredients. There was no way I was about to cook two separate meals every night.
Another thing you should know about Joshua is that he is a meat and potatoes kind of man. He was raised in the south on cornbread and pinto beans. Country fried steak and mashed potatoes. As much as I love to take the time setting our plates to be visually appealing, my garnishes and presentation are a complete waste on this guy.
To celebrate our "monthaversary" when we were dating, I made him a beautiful picnic by the lake. I served chicken salad in pita pockets, pasta salad, and a heart-shaped chocolate cake. Fail. The only thing he may have eaten was the chocolate cake, but the ants devoured it before we got a chance to. Being from Pennsylvania, I didn't have much experience feeding a good ol' southern boy. I had much to learn. Anything that could potentially be found at a tea party, Josh likes to call "frou frou food".
Despite all of this heart-breaking information, two days ago, I made what Joshua said was "the best chicken salad he has ever eaten". He took one bite and said "MMMmmm!". Go me. If you have a manly man at home to feed, try this chicken salad out on him. Its totally Cowboy-approved! 😉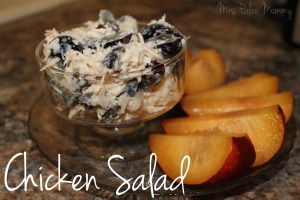 Chicken Salad
Ingredients:
12 oz can chicken, drained.
2 TB paleo-friendly mayo
1 1/2 TB honey
2 TB onion, chopped
1/3 C grapes, quartered
2 TB raisins
2 TB celery, chopped
1/4 C pecans, chopped (optional)
s&p to taste
Simply combine all ingredients in a large bowl and enjoy.