Pork Fried Chicken and Sweet Potato Fries
Who doesn't love pork rinds? They are a staple in my house. Not only are they awesome to snack on, but they are the perfect breadcrumb substitute! These chicken legs are a great example. Pork Fried ChickenIngredients: 1 lb chicken legs (about 6 legs) 1 C crushed pork rinds* 2 eggs, whisked 1 tsp seasoned…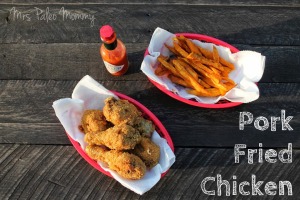 Who doesn't love pork rinds? They are a staple in my house. Not only are they awesome to snack on, but they are the perfect breadcrumb substitute! These chicken legs are a great example.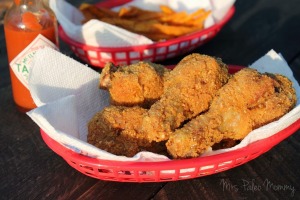 Pork Fried Chicken
Ingredients:
1 lb chicken legs (about 6 legs)
1 C crushed pork rinds*
2 eggs, whisked
1 tsp seasoned salt
oil for frying (i use olive oil)
*I like to crush my pork rinds up in my food processor, get it nice and fine like a meal
Directions:
Heat your oil on medium-high
Crush your pork rinds, transfer to a medium bowl, and mix in seasoned salt
Coat the chicken legs in the egg, then in the pork rinds
Fry about 15 minutes, until cooked all the way through.
Dry on paper towels
I also use this recipe to make chicken fingers. I actually prefer my chicken boneless. Just follow the same directions and fry about 6 minutes.
Serve with hot sauce, and Sweet Potato Fries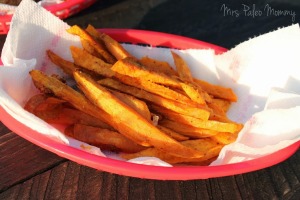 Ingredients:
1 sweet potato
1 TB tapioca flour
seasoned salt
Directions:
Cut potato lengthwise into strips, uniform thickness.
Toss in tapioca flour and sprinkle with seasoned salt.
Fry about 3 minutes each side, dry on paper towels.