Sweet Heat Chicken Bacon Bites
I love spicy. I don't mean the kind of spicy that has you choking and crying and gasping for water….but the good spicy. The kind of spicy that sets your tongue on fire, but makes you keep coming back for more.When I went on road trips as a kid, my brother and I would race…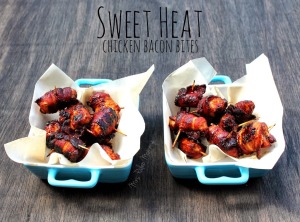 I love spicy. I don't mean the kind of spicy that has you choking and crying and gasping for water….but the good spicy. The kind of spicy that sets your tongue on fire, but makes you keep coming back for more.
When I went on road trips as a kid, my brother and I would race to see who could finish a bag of "hot fries" first. He always won, but I still would not stop eating until i finished the whole bag. Tongue flaming, nose dripping, but I can't stop eating. That is my favorite kind of spicy. The kind that has you addicted. These chicken bacon bites are exactly that. Deliciously sweet, spicy, and addicting. I ate all of them…all by myself. They were that good.
Sweet Heat Chicken Bacon Bites
Ingredients:
1lb chicken tenders, cut into bite-size pieces
About 9 slices of bacon, cut in half
Tabasco sauce ( I use McIlhenny Co. brand.)
1 C coconut sugar
dash each of paprika, chili powder, salt and pepper
oil for frying
Directions:
Heat your oil to medium-high
Wrap 1/2 slice of bacon around each chicken piece and secure with a toothpick
Douse chicken in Tabasco sauce
Combine coconut sugar and spices in a small mixing bowl
Toss chicken in sugar mixture
Fry 3 minutes on both sides.
I do not suggest drying them on paper towels, as the now candied bacon will stick.
You could also bake them if you prefer not to fry. I'd say at about 400, turning halfway. Cook until the chicken is done, and finish with a short broil to crisp the bacon.