Cilantro Lime Coconut Shrimp Soup
This dish utilizes such a beautiful marriage of flavors that I personally have never thought to use together. Just as many spectacular recipes are created, this one was thrown together in a pinch. Using ingredients I happened to have on hand, this soup turned out to be delectable! I started out with some of my…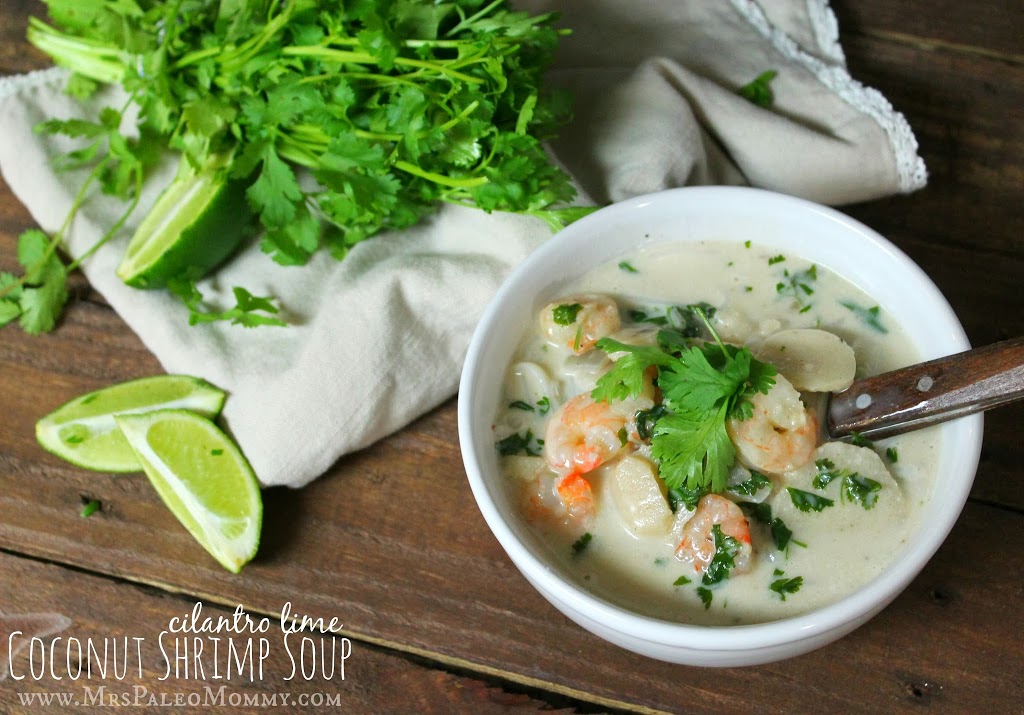 This dish utilizes such a beautiful marriage of flavors that I personally have never thought to use together. Just as many spectacular recipes are created, this one was thrown together in a pinch. Using ingredients I happened to have on hand, this soup turned out to be delectable! I started out with some of my own favorite flavors, and then toward the end I incorporated some of my husband's choice ingredients.

I am still blown away by the result. I stepped way outside of my comfort zone on this one, and I am so pleased that I did. The whole family slurped it down! I hope your family loves it as much as mine did.
Cilantro Lime Coconut Shrimp Soup
Serves 4

Ingredients:
1 lb shrimp, cooked peeled and deveined.
3 cans of coconut milk
1 TB coconut oil
1 tsp sesame oil
1/4 C chopped red onions
1 clove of garlic, minced
1 C water-chestnuts
1 C chopped cilantro
1 tsp grated ginger
1 tsp salt (plus more to taste)
1/4 tsp garlic powder
1/4 tsp onion powder
1 tsp fish sauce
ground pepper, to taste
1 lime and extra cilantro to garnish
Directions:
Heat your coconut and sesame oil in a large pot over medium high
Add shrimp to the pot and sprinkle on a little salt and pepper
Toss around for a few minutes, just to get a quick sear, and then with a slotted spoon, remove shrimp and set aside.
Add onion and garlic to the pan and cook until browned, just a couple of minutes.
Add remaining ingredients and bring to a boil, stirring occasionally.
Return shrimp to pot and stir.
Serve with lime slices and extra cilantro.