Creamy Mashed Potatoes
Mashed Potatoes. My favorite food in the entire world. Ask any member of my family. I request mashed potatoes for every birthday dinner, every holiday, and pretty much any occasion that I think they would be yummy with whatever else we are eating. I have been known to just eat an entire bowl of mashed potatoes…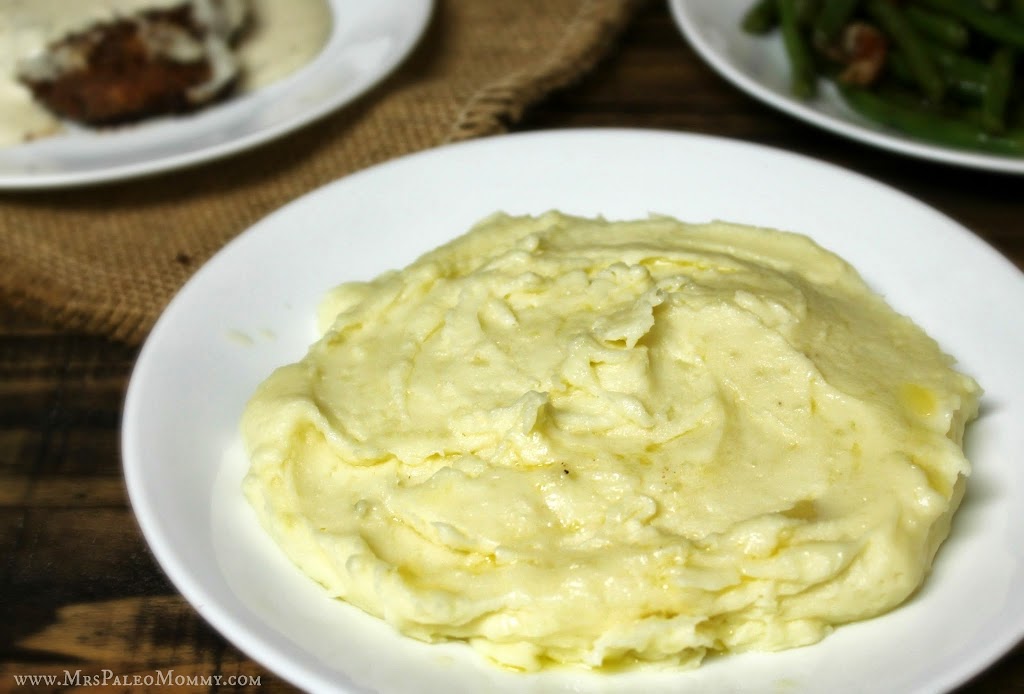 Mashed Potatoes. My favorite food in the entire world. Ask any member of my family. I request mashed potatoes for every birthday dinner, every holiday, and pretty much any occasion that I think they would be yummy with whatever else we are eating. I have been known to just eat an entire bowl of mashed potatoes for dinner. Like I said. Favorite. Food. EVER.

So you can bet your bottom that I have perfected my own recipe for the creamiest most de-dang-licious mashed potatoes you will ever eat.
This recipe is considered "primal" because of the use of dairy, however substitutes will be listed for a dairy-free version.
Creamy Mashed Potatoes
Serves 2
Ingredients:
4 small-medium potatoes, peeled and cut in half
6 TB butter [sub: ghee]
1/2 C sour cream [sub: coconut kefir, or coconut cream*]
2 tsp salt
1 tsp black pepper
*if you plan ahead of time, Paleo Cupboard has an awesome recipe for Paleo Sour Cream!
Directions:
Place potatoes in a large saucepan and cover with water.
Turn heat to medium-high and bring to a boil.
Boil for about 8-10 minutes, until easily pierced with a fork.
Drain potatoes and transfer to a large mixing bowl.
Add butter and sour cream, and blend with hand mixer on high until smooth.
Mix in salt and pepper and serve.
Are potatoes paleo?
I will be the first to tell you that I am not a doctor, nor a nutritionist. I am not qualified to tell you what you may and may not eat.
That said, I will refer you to these articles written by those more qualified than myself:
http://www.primalpalate.com/paleo-blog/are-potatoes-paleo/
http://ancestralchef.com/why-arent-potatoes-paleo/
So there you have it. Mashed taters are one food I am very thankful to not have to give up!