Coconut Crusted Cod and Pineapple Salsa
Mother's Day is just around the corner, and in my case, a baby is following closely behind. So Cowboy is taking me to Destin for my Mother's Day present / babymoon. With the beach on the brain, I have been stuck on seafood all week. I cooked up a delicious shrimp stir-fry, some pan fried cod…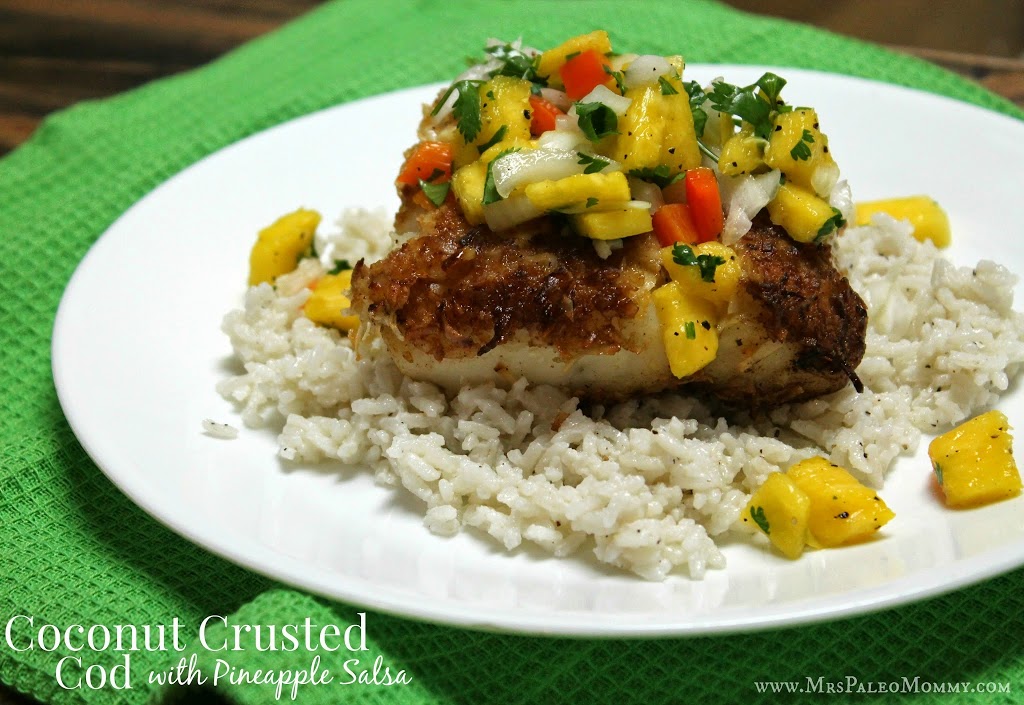 Mother's Day is just around the corner, and in my case, a baby is following closely behind. So Cowboy is taking me to Destin for my Mother's Day present / babymoon. With the beach on the brain, I have been stuck on seafood all week. I cooked up a delicious shrimp stir-fry, some pan fried cod with mushrooms and onions, and last night I concocted my first successful coconut crusted fish recipe.
Coconut shrimp is by far my favorite seafood dish, but it is a little more time consuming, so I decided to save that one for the vay-cay. This dish was quick and simple. The coconut crust was perfectly crispy, while the fish remained tender and flaked easily with a fork. The coconut rice and pineapple salsa really complete the meal. I can hear the waves already….
Coconut Crusted Cod
serves 4
Ingredients:
4 cod fillets of equal proportions
1/2 C unsweetened shredded coconut
1/2 C crushed pork rinds
1 TB tapioca flour
1 egg
salt and pepper
4 TB butter or coconut oil
Directions:
Preheat oven to 400
Whisk together egg with 1 TB water, set aside.
In a separate dish, combine coconut, pork rinds, and tapioca flour.
Lightly season fish with salt and pepper.
One at a time, dip fish in egg wash, then coat in coconut mixture, pressing down to ensure the coating sticks well.
Heat oil or butter in a large skillet over medium-high.
Add fish and brown, about 2 minutes each side.
Transfer fish to a foil covered, greased baking pan.
Cook 10-20 minutes, depending on thickness, until center is no longer translucent and flakes easily with a fork.
Serve over Coconut Rice:
Combine 2 C instant white rice with one can of coconut milk, and stir. Microwave, covered, for 5 minutes. Let stand 2 minutes before uncovering. Squeeze in juice of one lime, and season lightly with salt and pepper to taste.
Pineapple Salsa
Ingredients:
2 C pineapple, diced
1/2 C sweet onion, diced
1/2 C bell pepper, diced
2 TB apple cider vinegar
2 TB cilantro, chopped
salt and pepper to taste
Toss ingredients together and chill until ready to serve.
You may choose to substitute my Mango Salsa recipe instead 😉