Home Preschool: Week #1 – All About Me
We are three weeks into our home preschool, and loving it! I have a little bit of catching up to do, but I will be sharing our weekly learning adventures here for you to follow along. I have lots of fun learning activities for you little ones. Our first week's theme was "All About…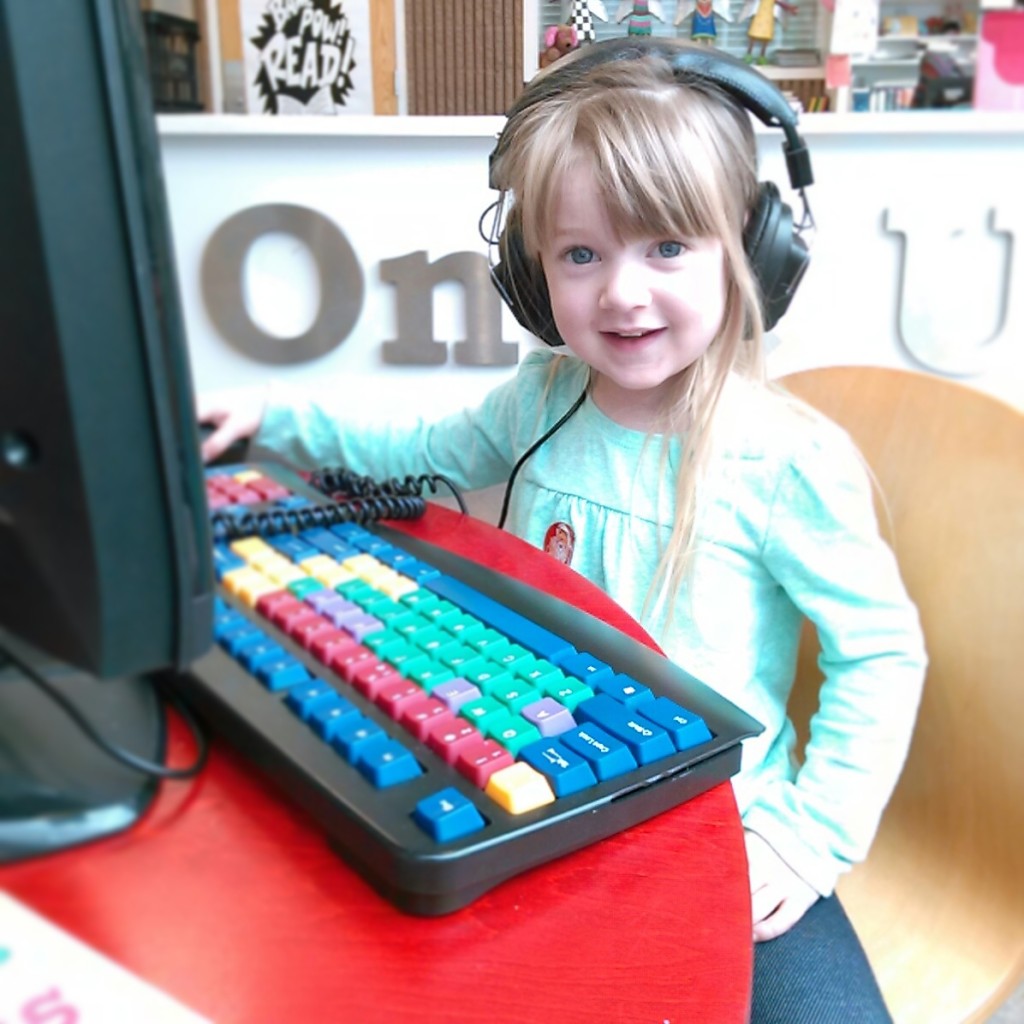 We are three weeks into our home preschool, and loving it! I have a little bit of catching up to do, but I will be sharing our weekly learning adventures here for you to follow along. I have lots of fun learning activities for you little ones. Our first week's theme was "All About Me".
Lyla will be turning 4 next month, and she has shown an incredible amount of interest in the daily learning activities I have provided for her over the past few years, so we decided to jump in this year to more of a structured curriculum. We homeschool 4 days a week, but I use every opportunity to teach through play and daily life. I could go on for hours listing the reasons I chose to homeschool my daughters. The main reason being that these are my children, and it is my job to teach them and raise them in the ways of the Lord. God has equipped me with everything I need to do so. I will share more about my choice to homeschool in another post. For now, let's review week one!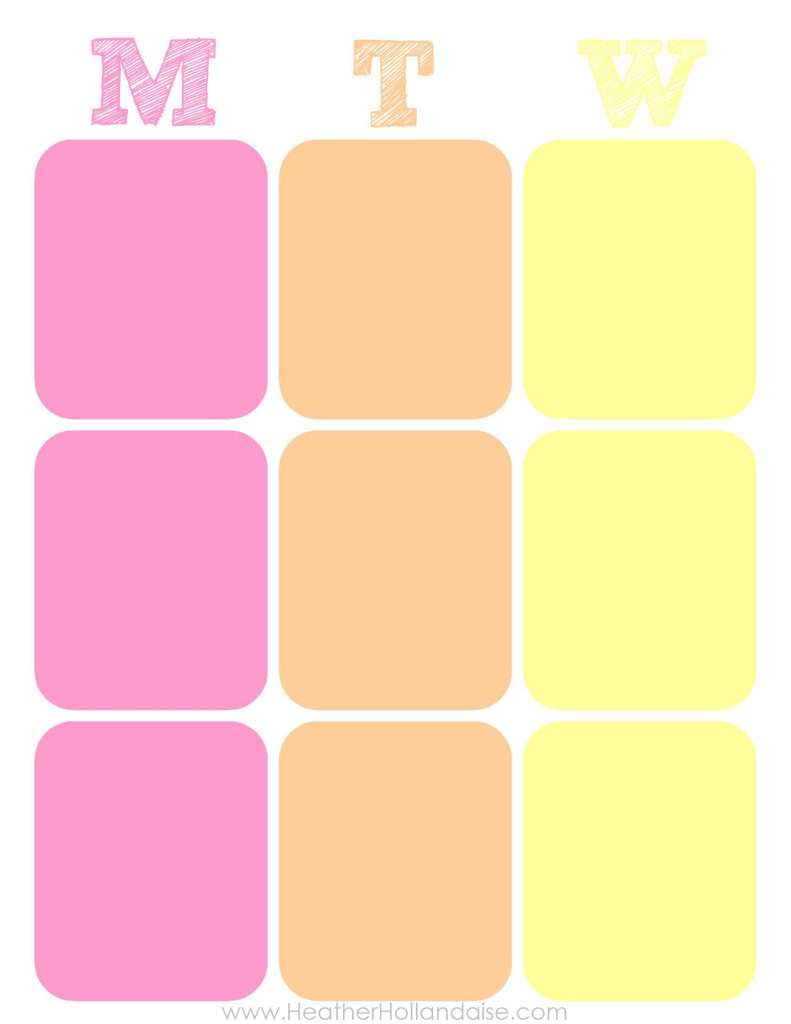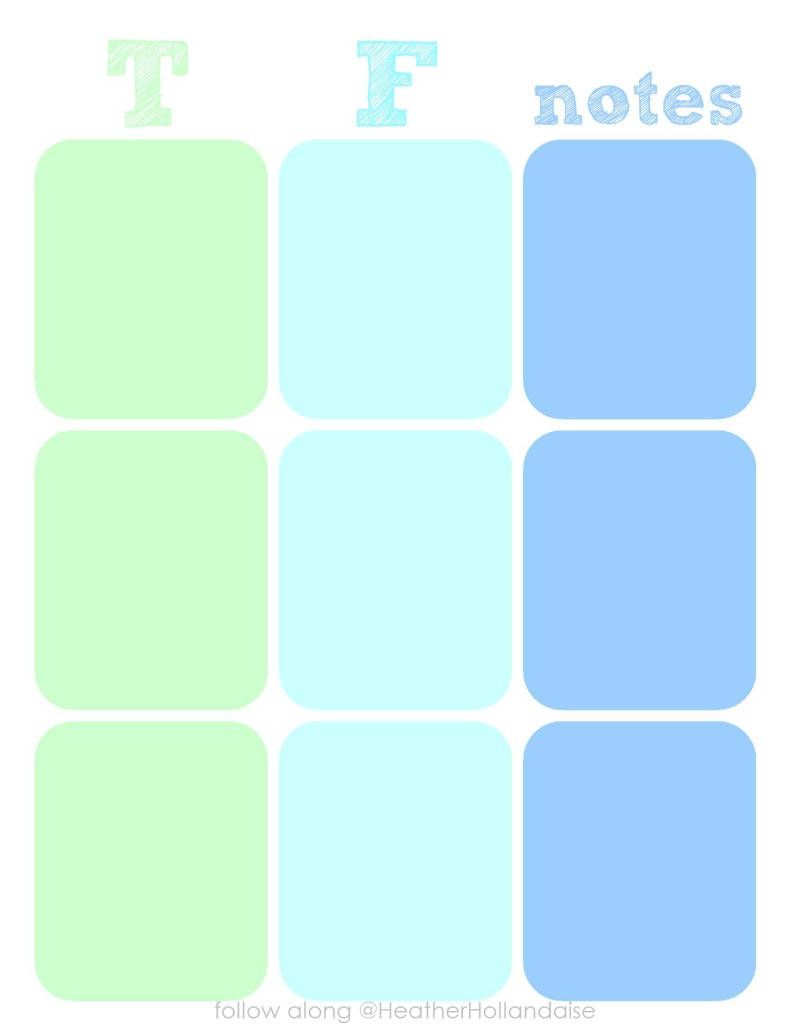 I am super picky when it comes to organization. Most times, I have a very specific idea in my mind, and I can't find the right product to fit my needs. So DIY is very common in my house. I wanted a very clean and simple lesson plan template that I could fill in each week. I printed it across two pages so that I can print on both sides and keep them together in a 3 ring binder. I decided not to label the sections, because our activities don't always fit into the same categories every day. I fill in our lessons according to the time of day. We do our schoolwork in the morning after breakfast, and during little sister's two nap times. About 3 hours a day. Mondays are (usually) our errand/field trip day. We spend some time at the library playing games and picking out our books for the next week. I made each day a different color because color coding just makes life so much easier. I have a different color folder for each day that I keep our printed worksheets, and I am working on getting some little tubs with colored labels to keep her independent play items ready for her to take out whenever she pleases.
Here is a copy of my Lesson Plan Printable. Or you can just right click on the photos above to save and print.
Week #1 – All About Me (September 7 – 11)
Letters: L (for Lyla) and A
Memory Verse: Genesis 1:1
Tuesday
Read "Chrysanthemum"
"L is for Lyla" lemon stamping – For this activity, I cut a lemon in half and blotted the moisture off with a paper towel. I provided a plate with yellow paint, a cut letter L, yellow construction paper and a glue stick. Lyla stamped the letter L and glued it to her paper. We practiced letter recognition and sound.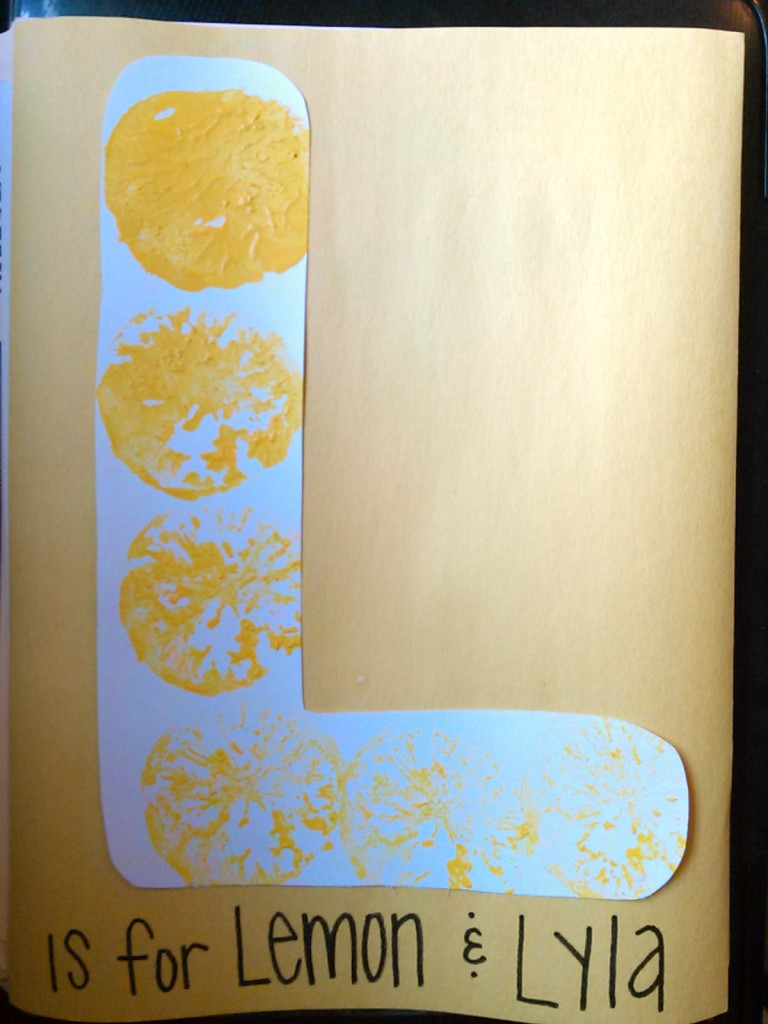 Magnet Letter Spelling – Independent play. Using an old cookie sheet (until I could get a magnetic white board) Lyla used magnet letters to find and spell her name. She continued playing by finding and naming other letters.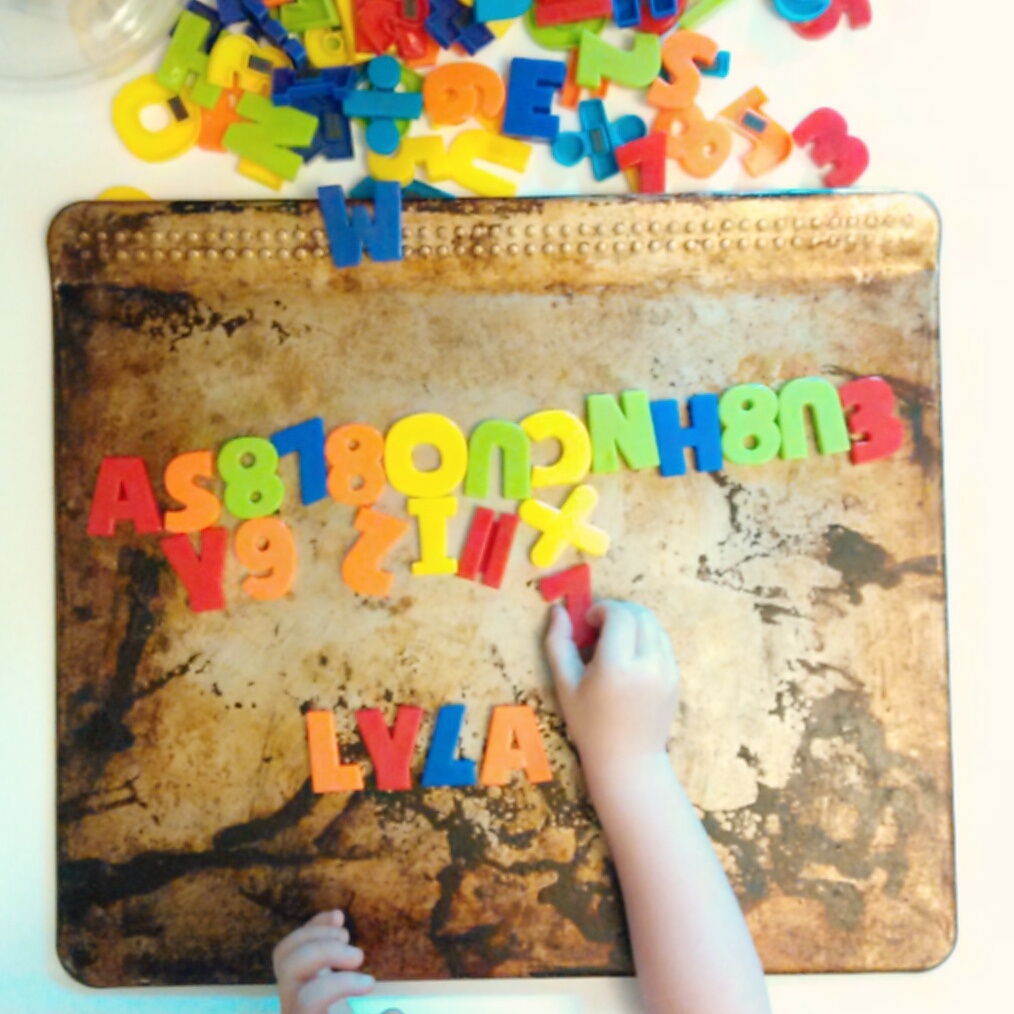 Wednesday:
Read "The Change Your Name Store"
Pom Pom Sorting – I provided blue, yellow, and red pom poms mixed together filling one half of a muffin tin, and cooking tongs. Lyla put sorted the colors into the other half of the muffin tin using the tongs, naming the colors and counting the pom poms.
Rainbow Name Practice – I cut a cloud shape from two pieces of white paper, and a strip of paper in each color of the rainbow. I wrote the letters in Lyla's name individually on each strip of paper (leaving two blank) and wrote her name in pencil for her to trace on the top cloud. Lyla glued the letters in order on the bottom cloud. Then we glued some tissue on and topped it with the second cloud.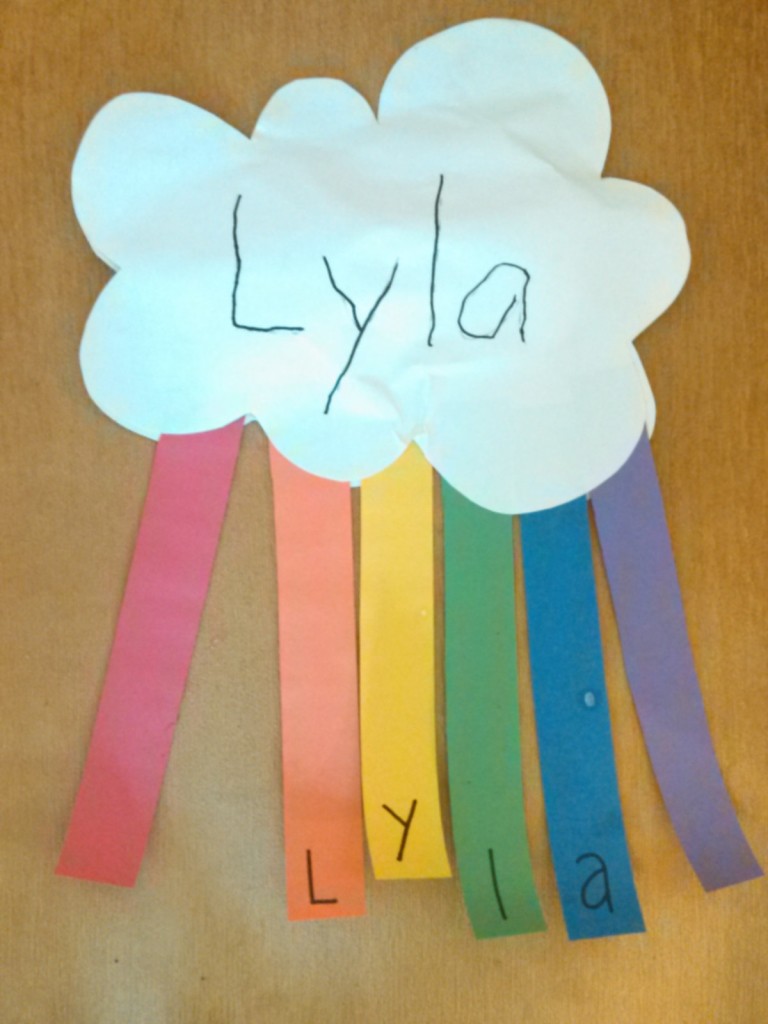 Thursday:
Read "The Name Jar"
Memory Verse – Today we started the Genesis series from What's In The Bible. We practice our memory verse several times throughout each day.
Life size self portrait – Using a large piece of cardboard, I traced the outline of her body. She used markers, crayons, and colored pencils to draw clothes, hair, facial features, etc. We saved this to pull out again next week and glue on other materials for clothes and accessories.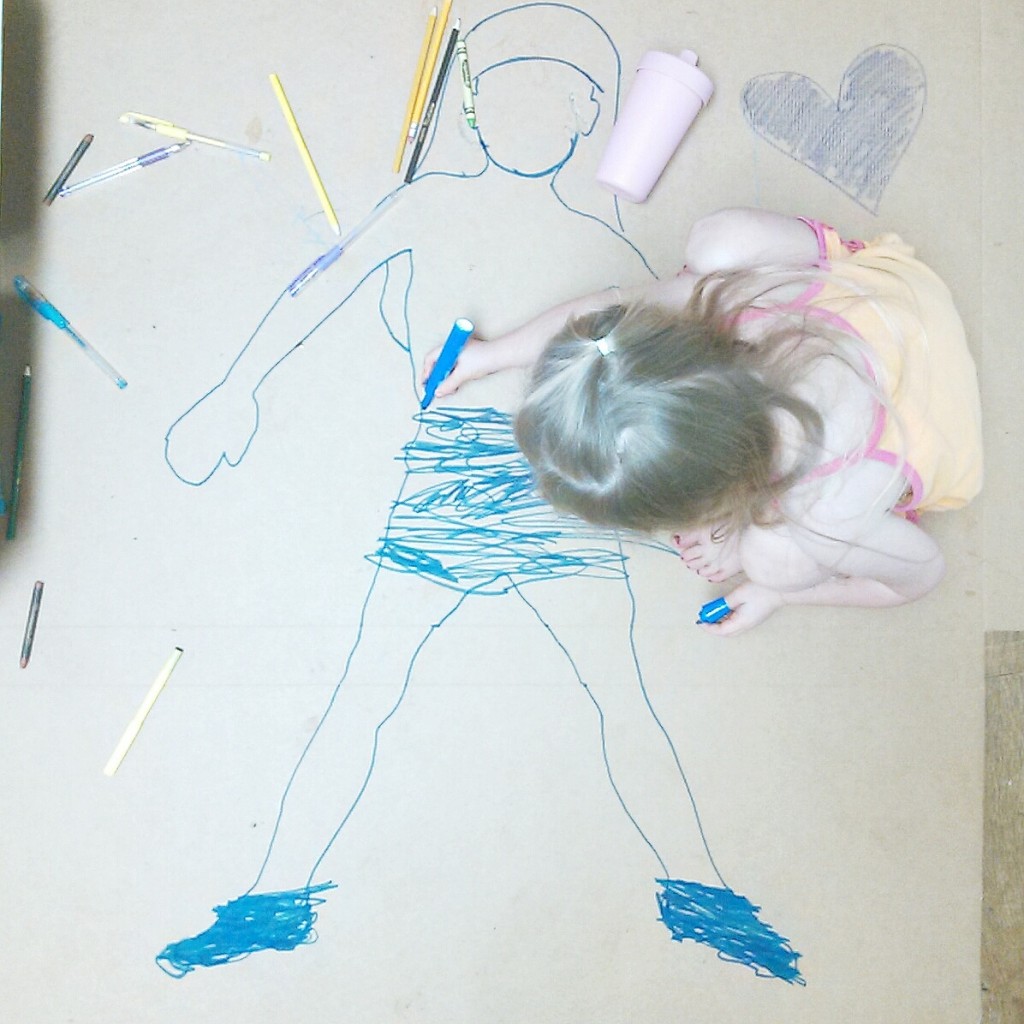 Friday: 
We went a little off topic today because Lyla expressed an interest in the "ant city" she found outside under her clubhouse.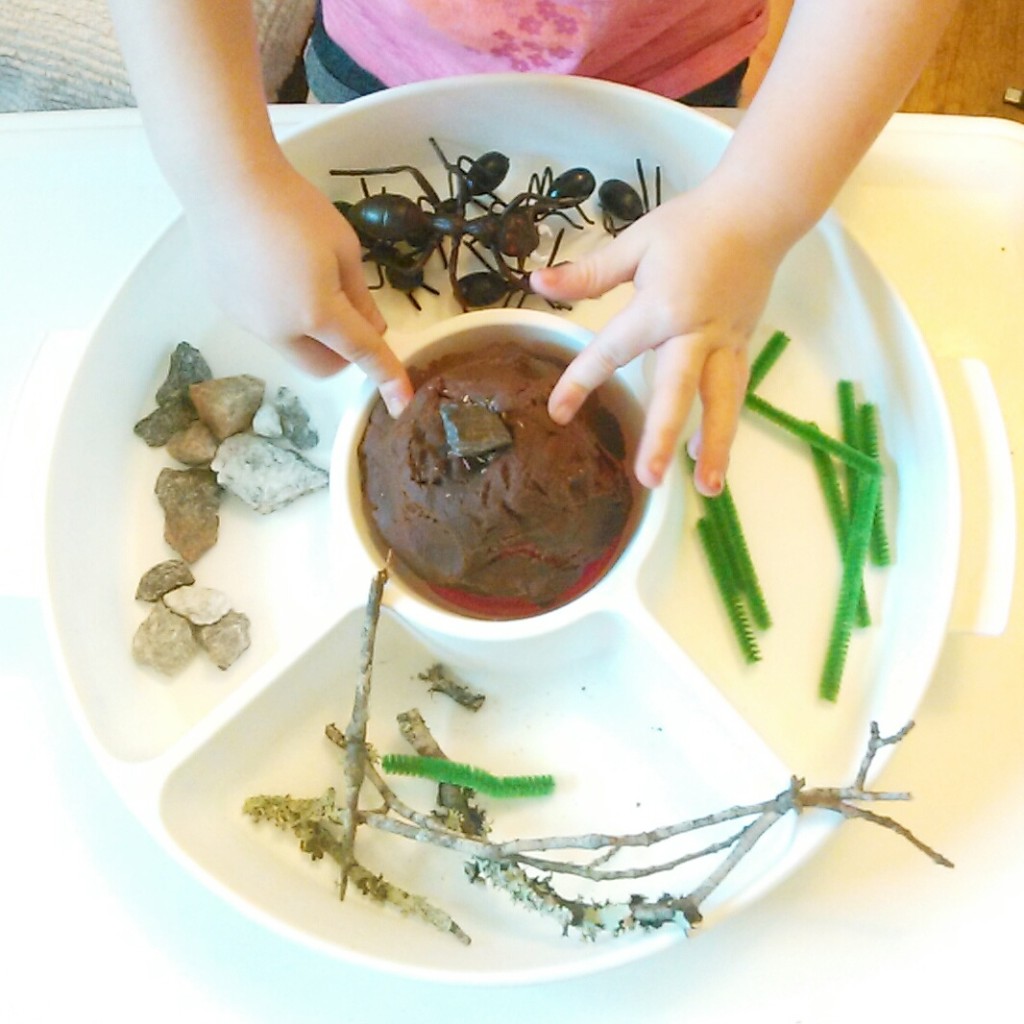 explore "ant city" with a magnifying glass
Our first week was a huge success! Lyla can identify and write all the letters in her name, recite her memory verse, and tell you all about ants, primary colors, and creation! We had quite a busy week. I think it's safe to say she worked hard! (Lyla is my no-napper!)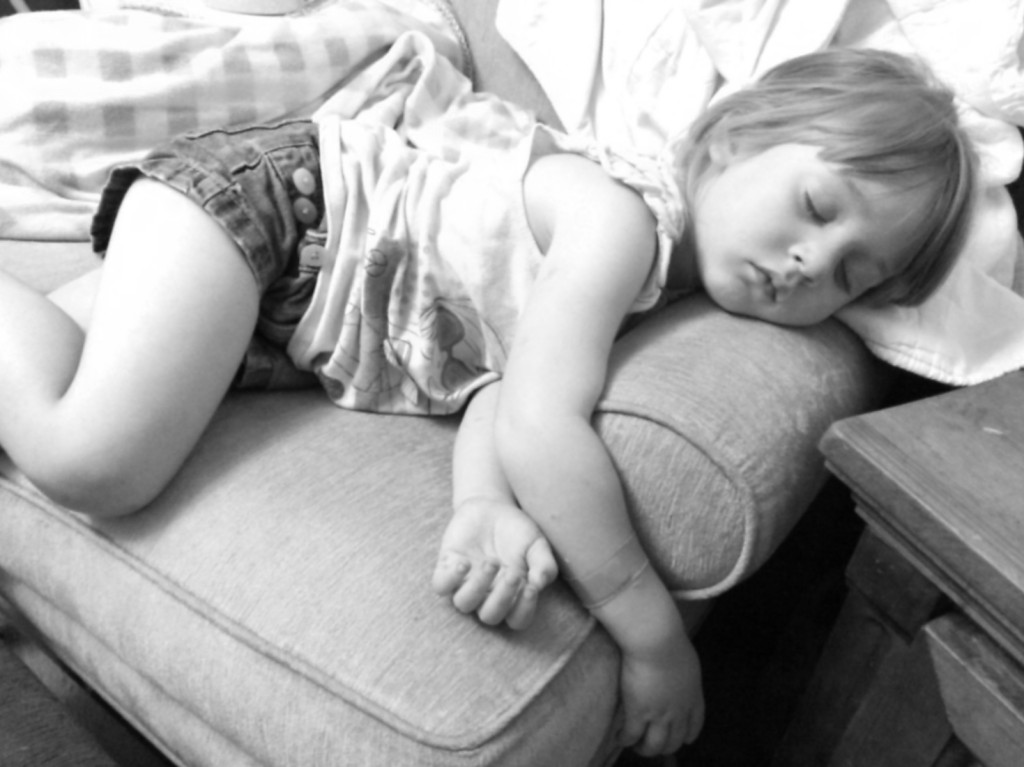 Check back soon for Week #2: My 5 Senses!