Firebomb Crunch Monster Cheeseball with Gluten Free Cinnamon Crisps
With my daughter's Monster Mash coming up just around the corner (not to mention halloween) I wanted to create a fun and tasty appetizer to serve our little guests. So I have teamed up with Flatout and Dollop to bring you not one, but two fantastic cheeseball recipes suitable for any party! Both of them are…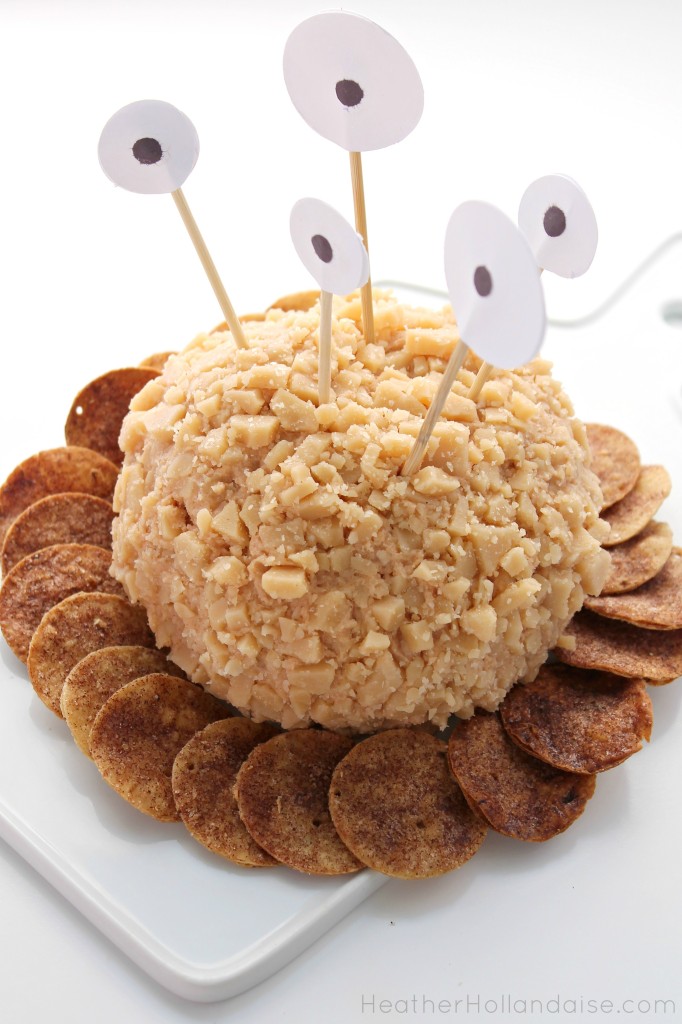 With my daughter's Monster Mash coming up just around the corner (not to mention halloween) I wanted to create a fun and tasty appetizer to serve our little guests. So I have teamed up with Flatout and Dollop to bring you not one, but two fantastic cheeseball recipes suitable for any party! Both of them are perfectly paired with crispy flatbread chips. My Peanut Butter Crunch Monster Cheeseball is great for the kids. But I couldn't leave out the adults!
This fun party dish is a winning combination of sweet and spicy cinnamon frosting, rich cream cheese, and crunchy buttery Homemade Toffee. Smear some of this goodness onto a cinnamon sugar crisp, you are surely in for a treat. But beware. This monster bites!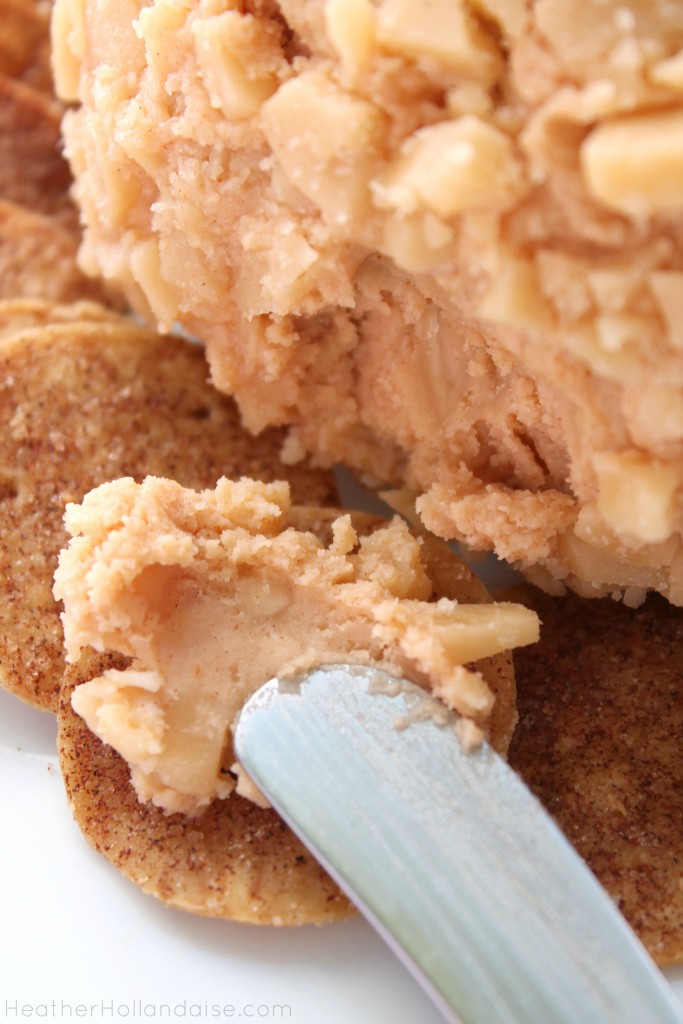 Dollop Firebomb Cinnamon Spread really packs a punch. While I love me some sweet heat, I don't want my guests running to the punch bowl, so I tamed it a little with the coolness of the cream cheese. Now you are left with a nice subtle kick. The flavor is so addicting you will keep coming back for more. The big kids will enjoy this one as well. Just make sure you give it a try before you serve it to your toddlers. Every child is different. My four year old loved it, but swiftly asked for a glass of milk. And then she proceeded to polish it off.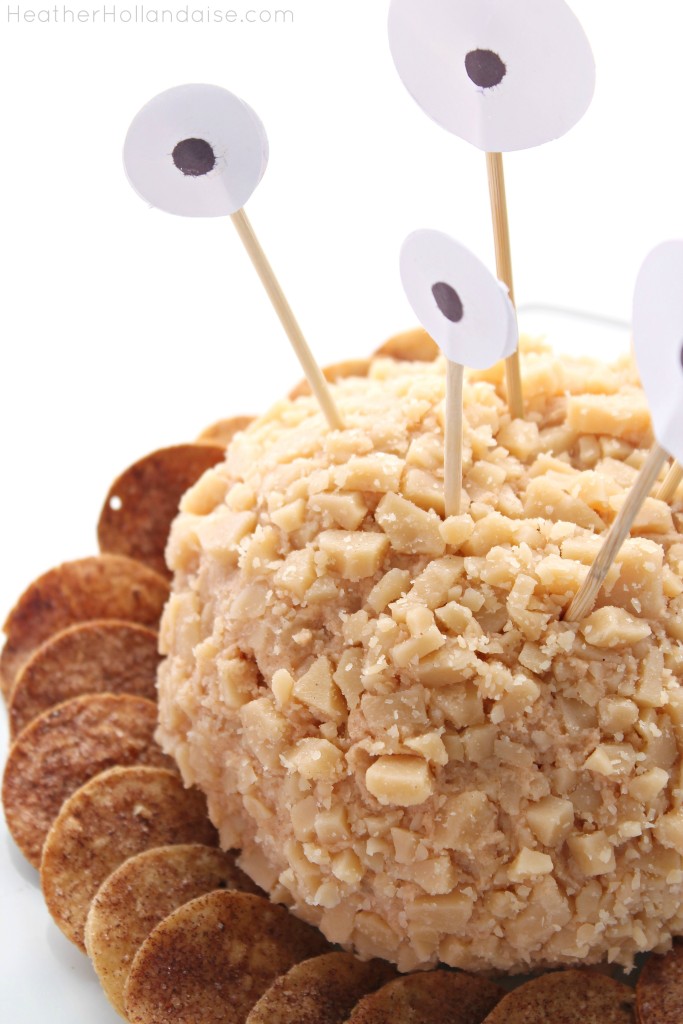 My little monster pair was so much fun to put together. And so simple that my little one could help. It only takes a bit of mixing. Don't forget to garnish the fella with his crispy cinnamon tentacles and googly eyes!

Firebomb Crunch Monster Cheeseball
Ingredients
12 oz Dollop Gourmet Firebomb Cinnamon Spread
8 oz cream cheese, softened
2 C crushed toffee, divided
Instructions
In a large mixing bowl, combine cream cheese and frosting. mix well.
Fold in 1 C toffee.
Scoop mixture into the center of a square of plastic wrap.
Pull corners of plastic wrap up to the center and twist to form a ball.
Chill at least one hour.
Unwrap and roll in remaining toffee.
Chill until ready to serve.
Serve with Cinnamon Crisps.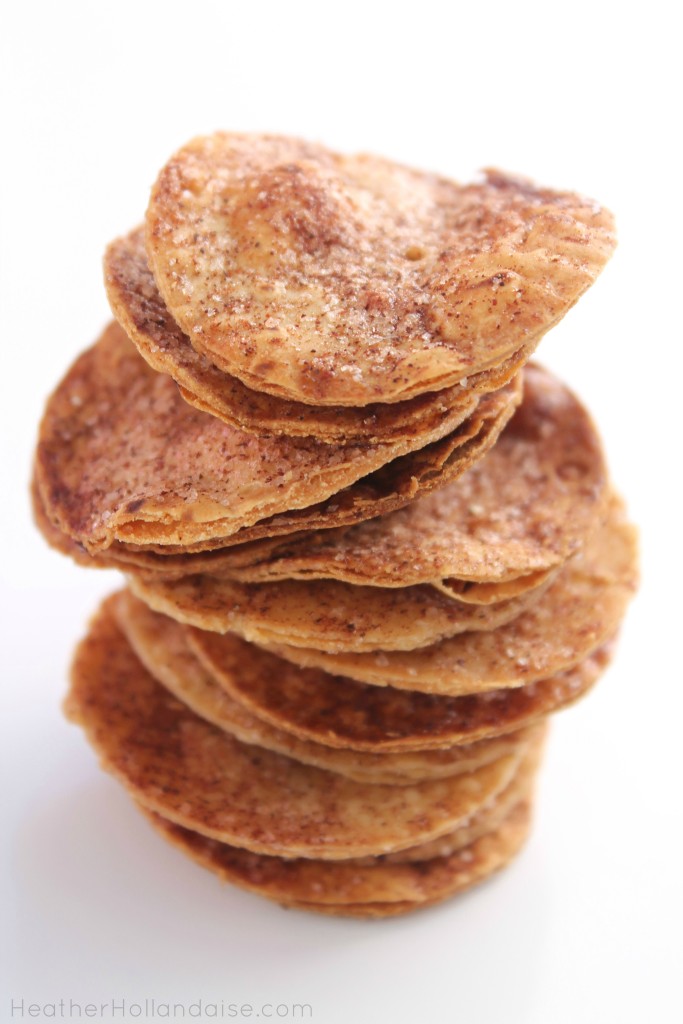 Gluten Free Cinnamon Crisps
Ingredients
1 pkg Flatout Gluten Free Flatbread
2 TB butter, melted
4 tsp cinnamon sugar
Instructions
preheat oven to 400.
Cut flatbread into circles, or any shape desired.
Arrange shapes on a parchment or silpat lined baking sheet and brush with butter.
Sprinkle evenly with cinnamon sugar.
Bake 4 minutes.
Cool.
Look for
Flatout
Gluten Free Flatbread, coming January 2016, and get your hands on some Dollop Gourmet Frosting
here
.
Now that you've got the big kids covered, don't forget the little ones! Grab my Peanut Butter Crunch Monster Cheeseball recipe here.
I was compensated for this post by Flatout and provided with samples to create these recipes. All opinions are my own.