Paleo Butternut Squash Venison Casserole
Last deer season, when we were still taking our deer to the processor, we decided to have one entire deer ground into sausage. We had two more made into steaks, roasts, and ground, and our freezer was packed. But all of it seemed to disappear much more quickly than the sausage. As much as we…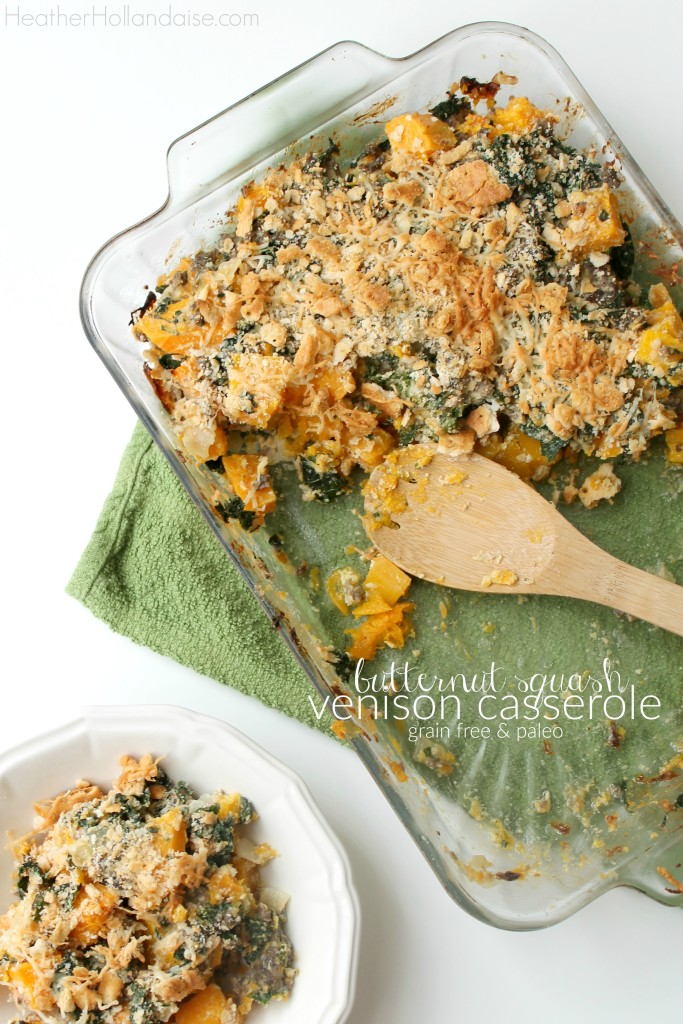 Last deer season, when we were still taking our deer to the processor, we decided to have one entire deer ground into sausage. We had two more made into steaks, roasts, and ground, and our freezer was packed. But all of it seemed to disappear much more quickly than the sausage. As much as we love it, I just couldn't think of as many uses for it as the other more versatile cuts of meat. I make my Venison Sausage and Tomato Pasta pretty regularly, because it's my husband's favorite. Aside from that, I just don't cook with it as much as I had expected to. Now that hunting season has rolled around again, I needed to get the last few packs cleared out of the freezer to make room for this year's harvest. This week I decided to get crafty with it.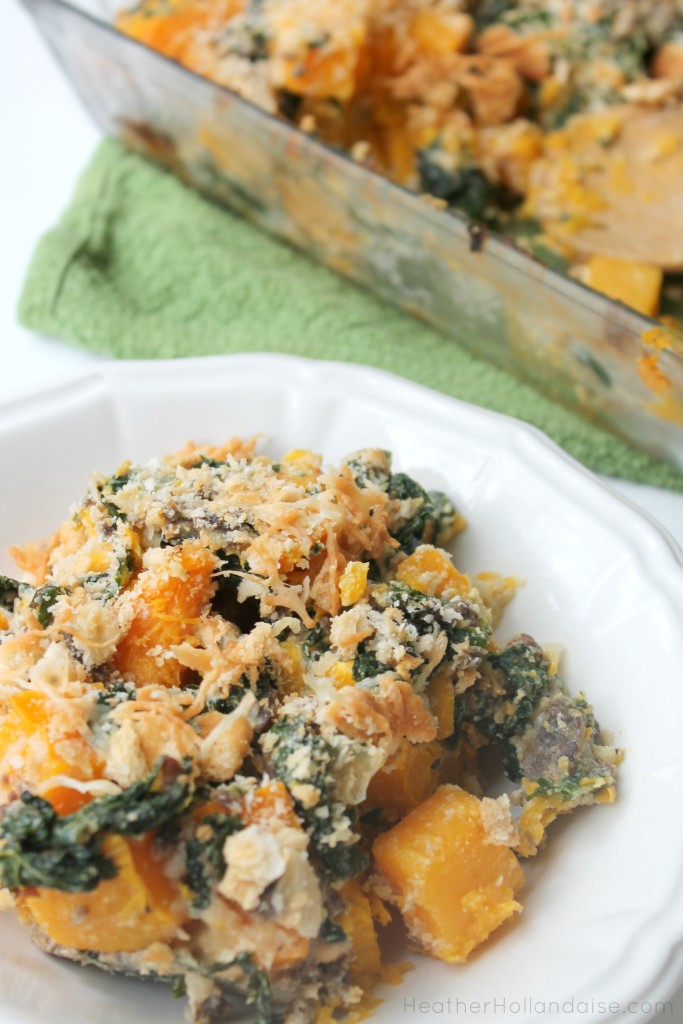 I know you know I love to cook. Every once in awhile I will find a good recipe that I just have to try. But my absolute favorite method of cooking is on a whim, feeling it, tasting and making it up as I go. It's actually the most satisfying for me, and surprisingly, these dishes always seem to turn out the best. 80% of the time I don't think to write down my measurements. Thank goodness that was not the case with this dinner! What started out as a meal thrown together turned out to be my new favorite casserole. This dish has such a beautiful balance of texture and flavors. The creamy melt-in-your-mouth squash tames the slight heat from the sausage. Fresh kale brightens it up, and parmesan cheese and cracker crumbs pull it all together into one fantastic casserole.

Paleo Butternut Squash Venison Casserole
Ingredients
1 lb ground venison sausage
8 oz fresh kale, chopped
1 lg butternut squash, peeled and cubed
½ sweet onion, chopped
2 eggs
½ c parmesan cheese
½ c coconut milk or half & half
1 c grain free crackers, crushed*
2 TB butter
2 TB olive oil
½ tsp salt
½ tsp black pepper
¼ tsp thyme
¼ tsp rosemary
¼ tsp sage
Instructions
preheat oven to 400.
arrange diced squash in a 13x9 in baking dish.
Drizzle with olive oil and season with salt and pepper.
Cook 20 minutes.
Meanwhile, melt butter in a large skillet over medium heat.
Add onions and cook 2 minutes, until fragrant.
Add sausage, kale, thyme, rosemary, and sage. Cook 4 minutes, stirring, until browned.
Remove from heat.
In a large mixing bowl, whisk eggs and milk.
Add ½ C cracker crumbs and ¼ C parmesan cheese and stir.
Add sausage mixture to mixing bowl and stir.
Pour mixture over squash and toss gently.
Top with remaining cheese and crackers.
Return to oven for 10 minutes.
Notes
* I used "Absolutely" gluten free crackers, which are paleo friendly.