Pan Seared Pork Chops with Cherry Fig Chutney
Y'all know I am all about some quick, easy cooking. It's pretty much a requirement when you are a mother of toddlers. While it certainly looks and tastes like you spent hours on this dish, it's done in under twenty minutes! No sacrifice in flavor here. And the best news is, even my pickiest child devoured…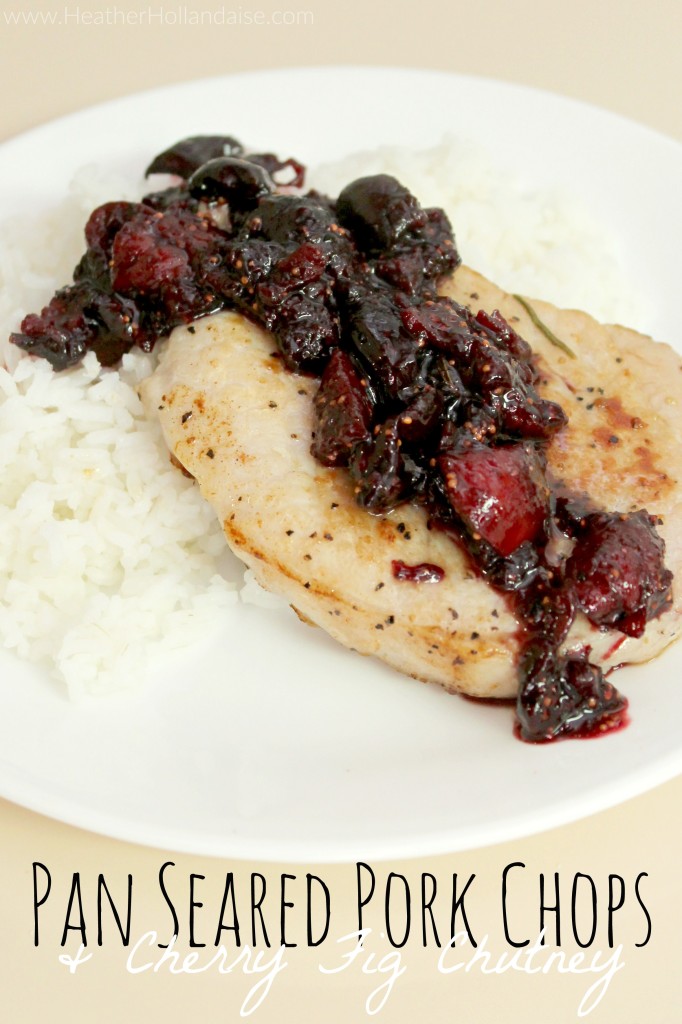 Y'all know I am all about some quick, easy cooking. It's pretty much a requirement when you are a mother of toddlers. While it certainly looks and tastes like you spent hours on this dish, it's done in under twenty minutes! No sacrifice in flavor here. And the best news is, even my pickiest child devoured it.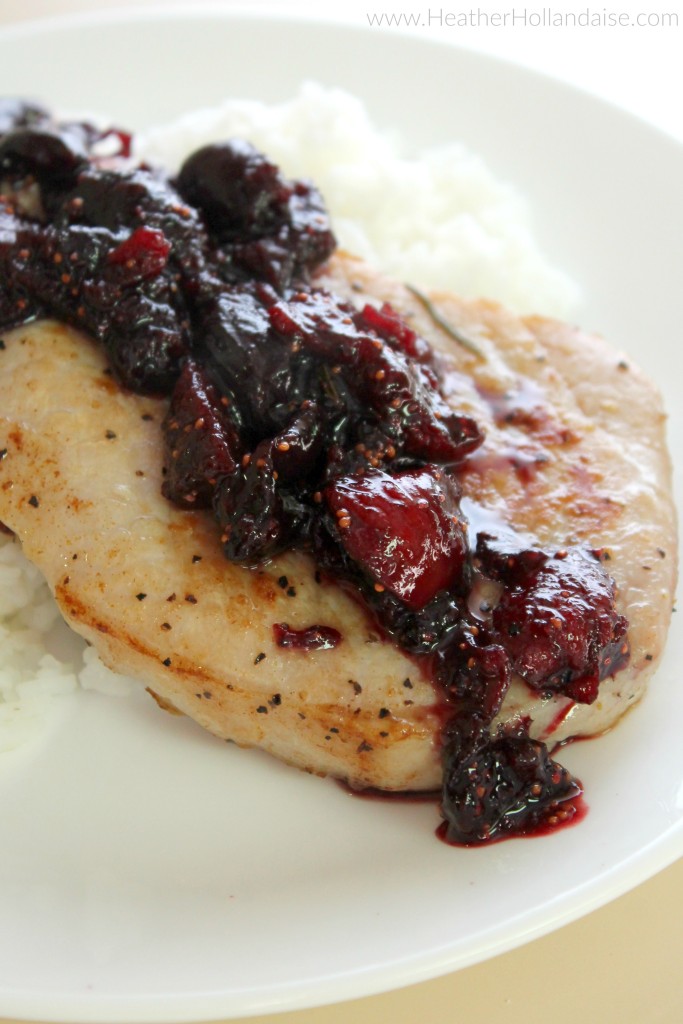 Pan searing the salty pork with fresh rosemary renders the fat and gives the meat a perfect savory flavor. Top that with a sweet and tangy chutney and you get a burst of flavor in every bite. It's delicious over california white rice or my Parsnip Puree. I served this with a side salad for a complete meal. Any green vegetable would be great!

Pan Seared Pork Chops with Cherry Fig Chutney
Ingredients
4 pastured pork chops
1 C fresh or frozen cherries, halved
½ C apple cider
½ C dried figs, roughly chopped or quartered
2 TB coconut sugar
1 tsp red wine vinegar
¼ tsp sea salt (+ more to taste)
¼ tsp black pepper (+more to taste)
1 TB snipped fresh rosemary, divided
1 TB olive oil
Instructions
In a small saucepan stir together cherries, apple cider, figs, coconut sugar, and ½ TB rosemary.
Bring to a boil, then reduce to a simmer over medium low heat.
Simmer, uncovered for 6-8 minutes, stirring occasionally.
Stir in vinegar, salt, and pepper.
Meanwhile, season both sides of pork chops with pepper and very minimal salt.
Place a large skillet over medium heat and add oil.
Toss rosemary into the skillet for a minute, until fragrant.
Add pork chops to skillet and cook about 3-4 minutes each side, until juices run clear and fat renders.
To serve, spoon the warm chutney over the pork chops.
Notes
Delicious served over California white rice