The Mystery of The Lost Recipe – AIP White Chicken Lasagna
We are a book loving family. My kids could entertain themselves all day long in an empty room with a stack full of books. I was so excited when I found this book by Healthy Kids Publishing. The Mystery of The Lost Recipe is a cute story about a town restaurant that has lost it's special…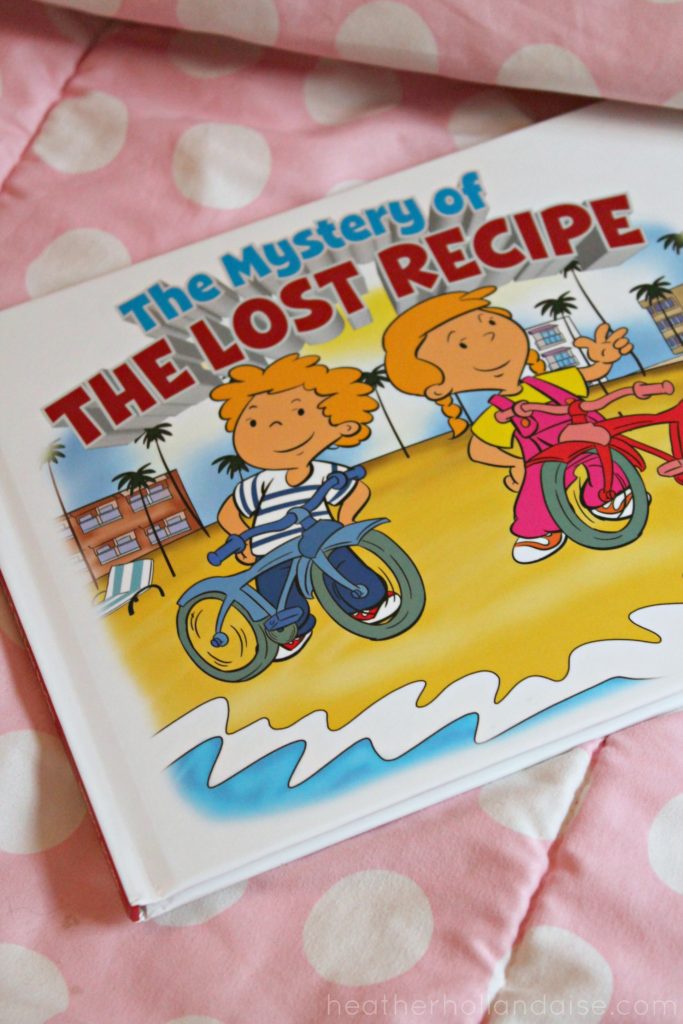 We are a book loving family. My kids could entertain themselves all day long in an empty room with a stack full of books. I was so excited when I found this book by Healthy Kids Publishing. The Mystery of The Lost Recipe is a cute story about a town restaurant that has lost it's special Lasagna recipe. Some local kids take it upon themselves to investigate and locate the recipe for the owner. This fun story encourages healthy eating, as well as exercise. There is nothing better than finding a good book that reinforces exactly what I am teaching my little ones.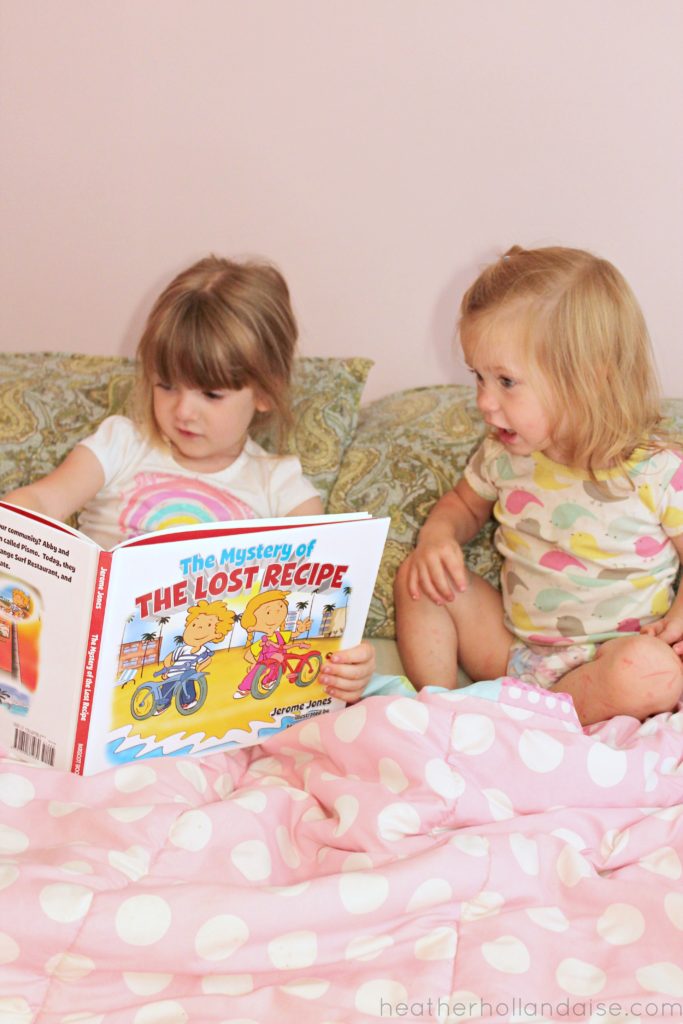 The bright and colorful photos grabbed their attention and did not let go. Lyla, my almost 5 year old, is very into mystery solving right now. She was hung on every word, trying to put the clues together herself and figure out where the recipe could have gone.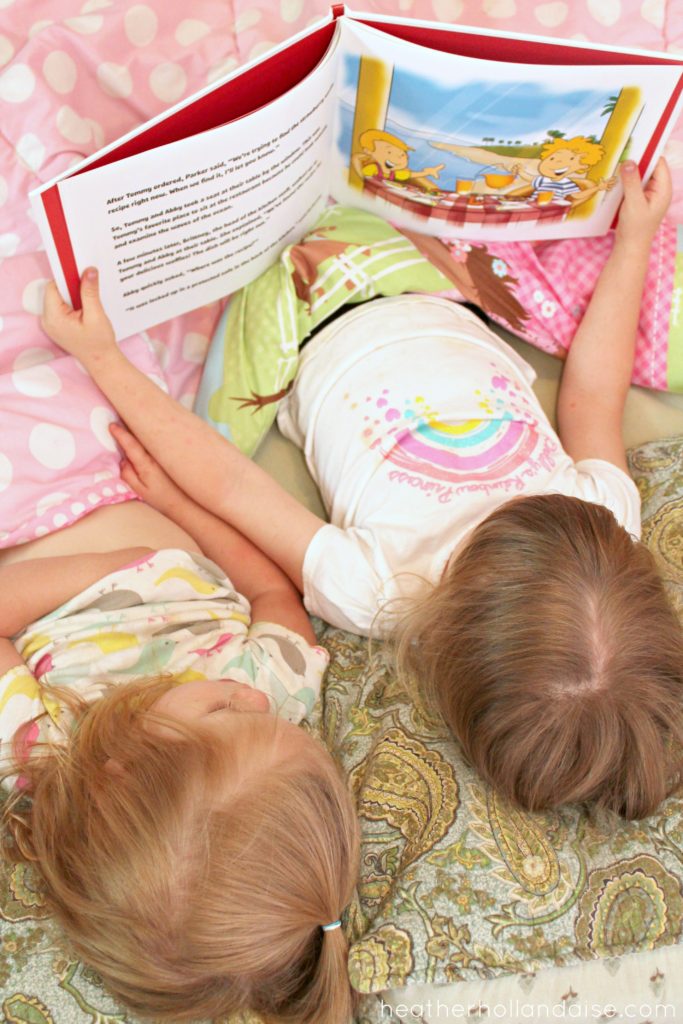 Lacie is her sister's shadow, so she just copied everything Lyla said as she pretended to pick up the tiny food off the pages and eat it. She particularly enjoyed the orange juice, and offered me many sips.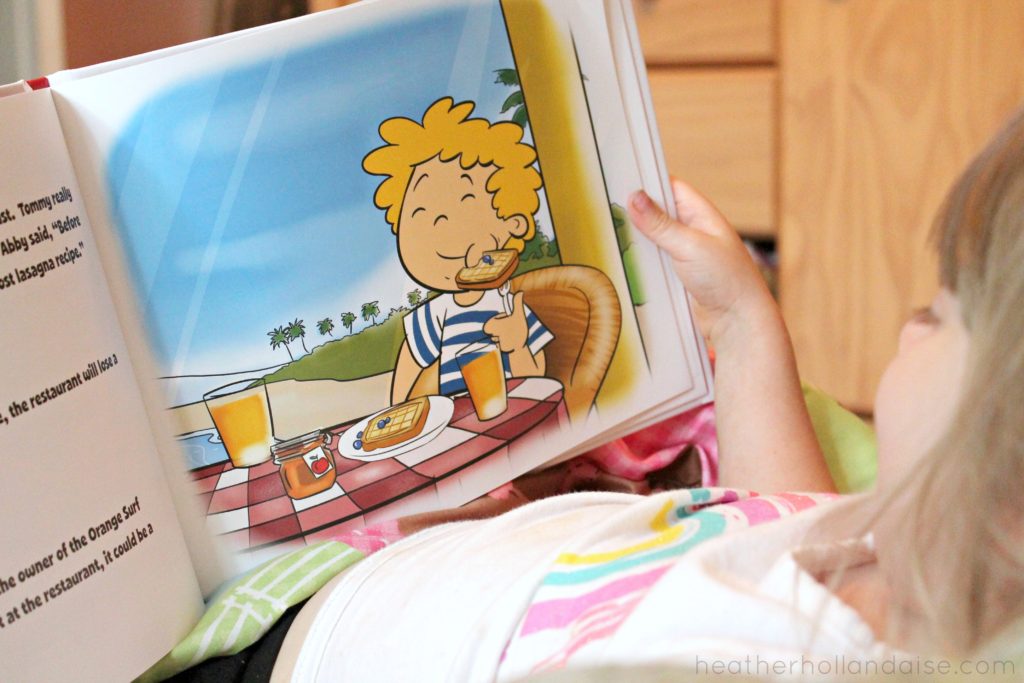 At the end of the book, when the recipe had at last been found, I had a little surprize for the girls. We were going to make our own Lasagna! If there is anything they love more than books, it's helping mommy in the kitchen.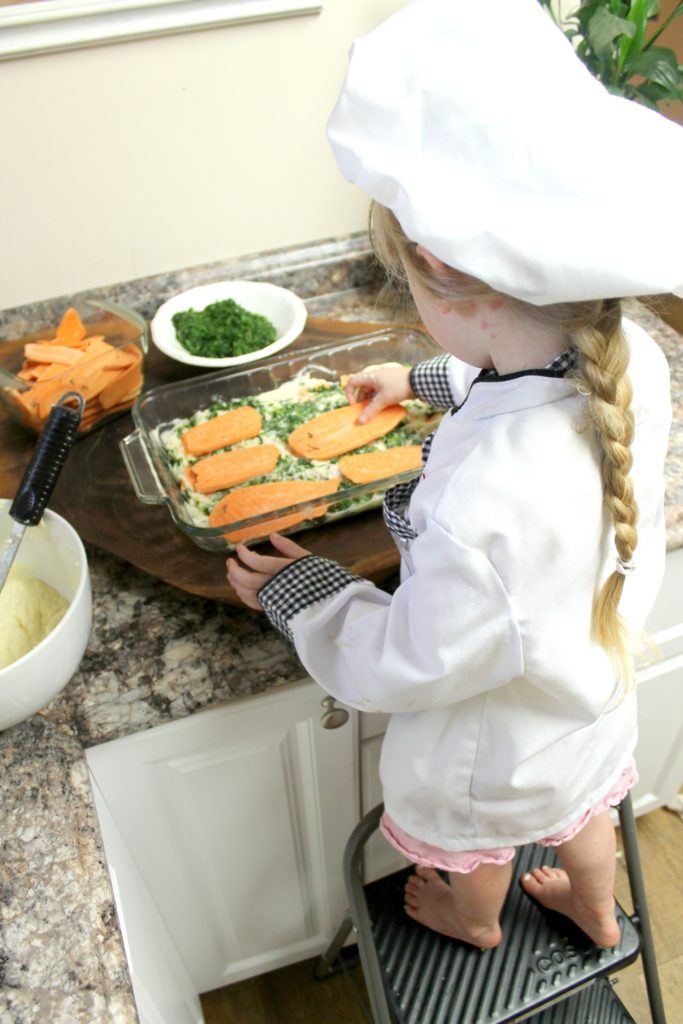 I got everything prepped and demonstrated how to layer the lasagna, and Lyla took over from there. She remembered every step.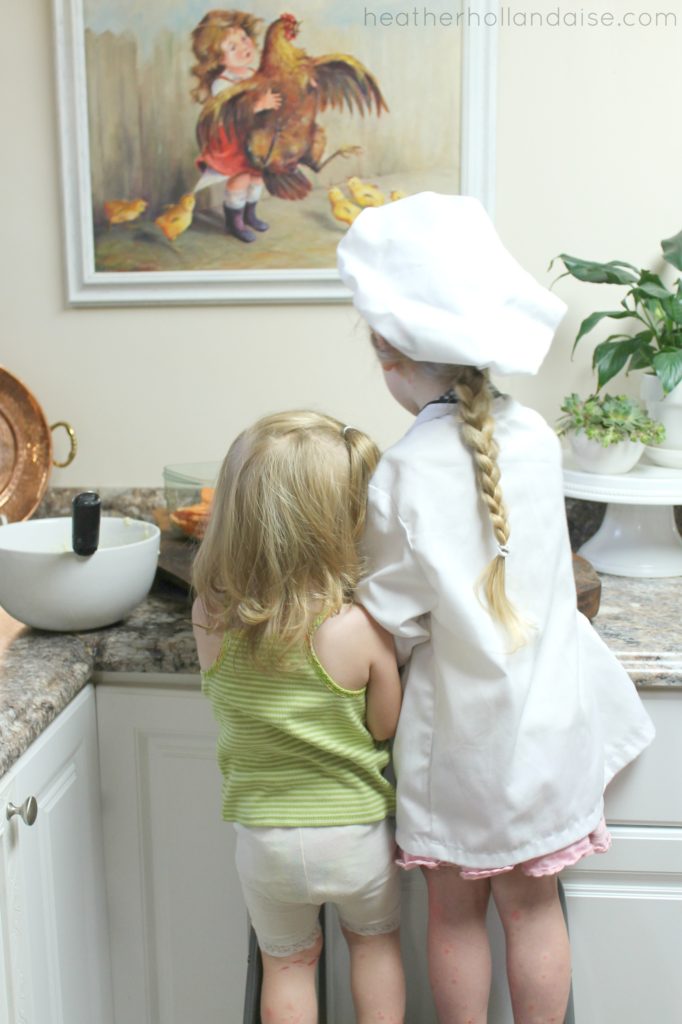 She took Lacie under her wing and showed her how it's done. Although Lacie just wanted to eat it straight from the pan.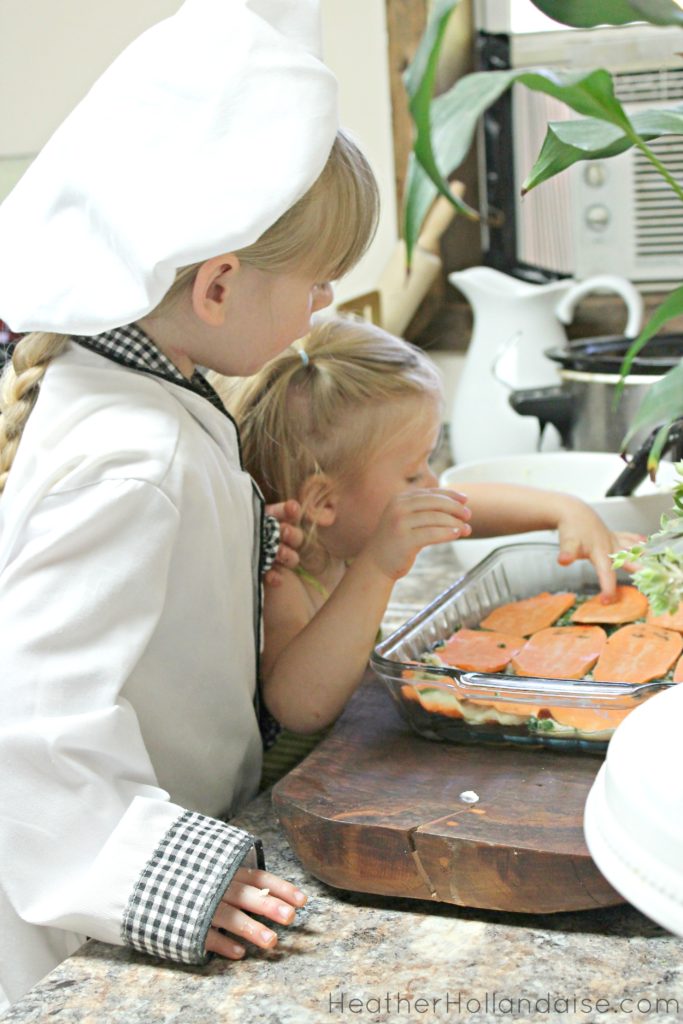 After lots of sampling, she joined in on the layering fun. Lyla was such a good little teacher. Can you see my heart bursting out of my chest right now?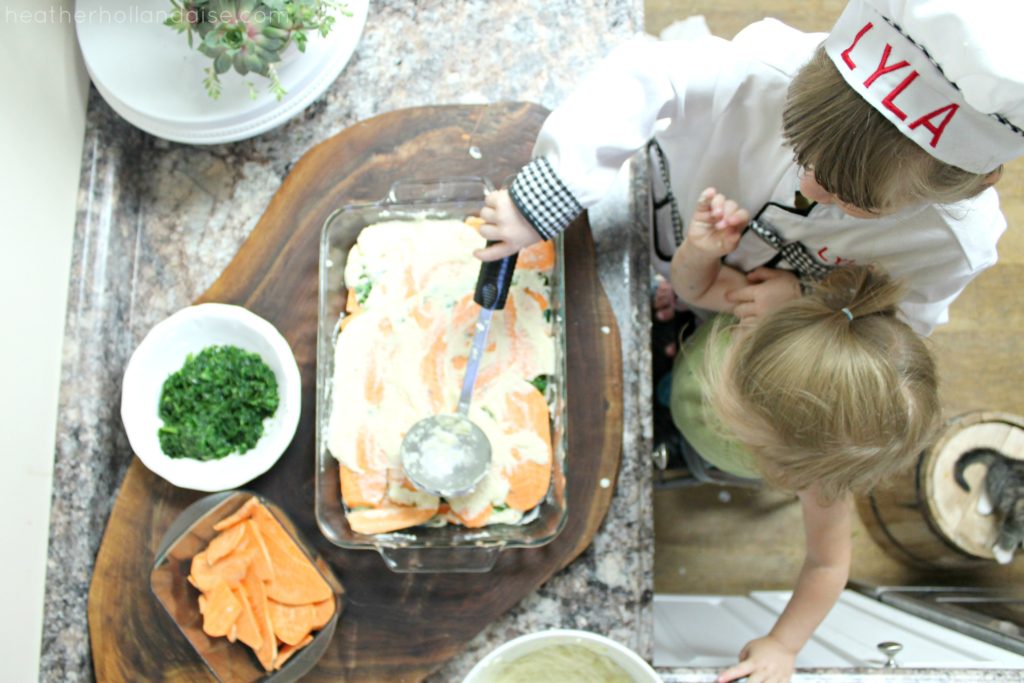 They did an awesome job and made mommy proud. We cleaned up while dinner was cooking. Of course, we had to make some fresh squeezed orange juice to go with it.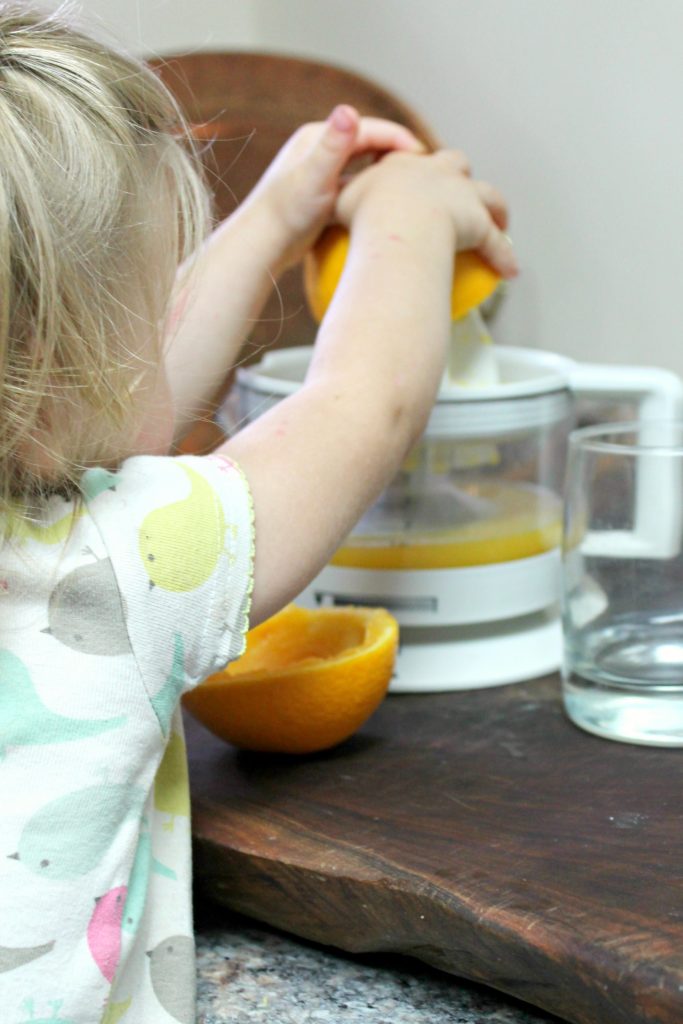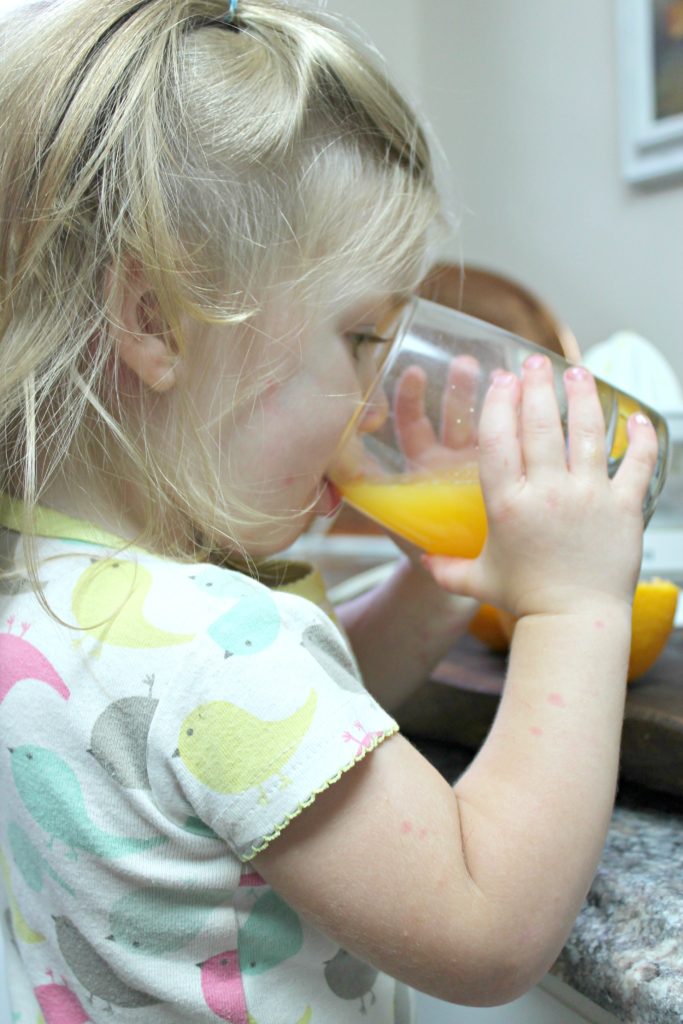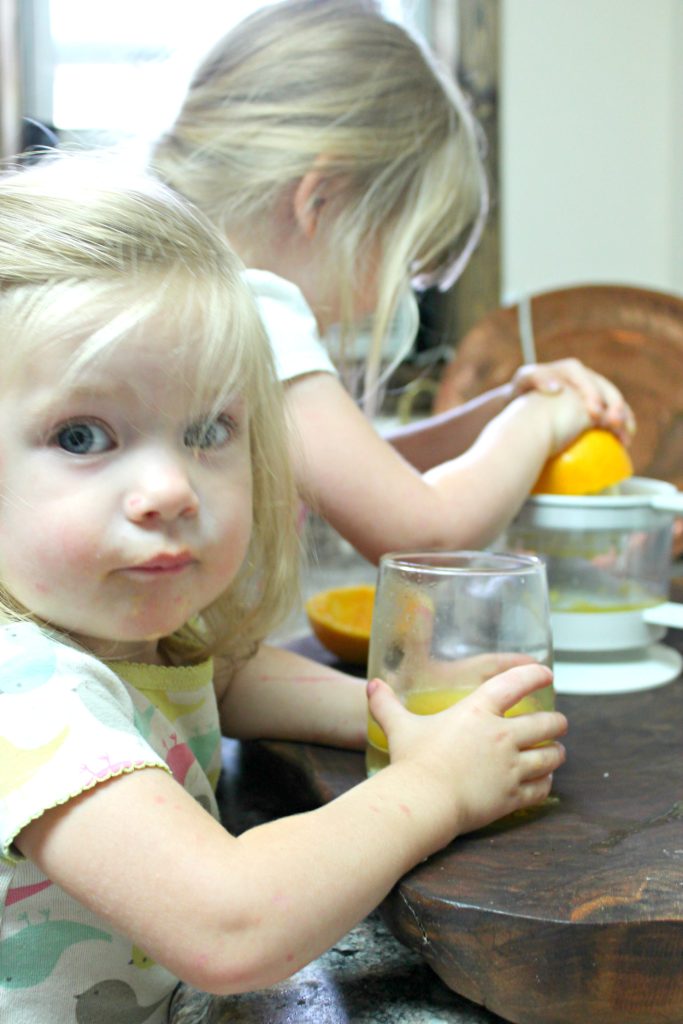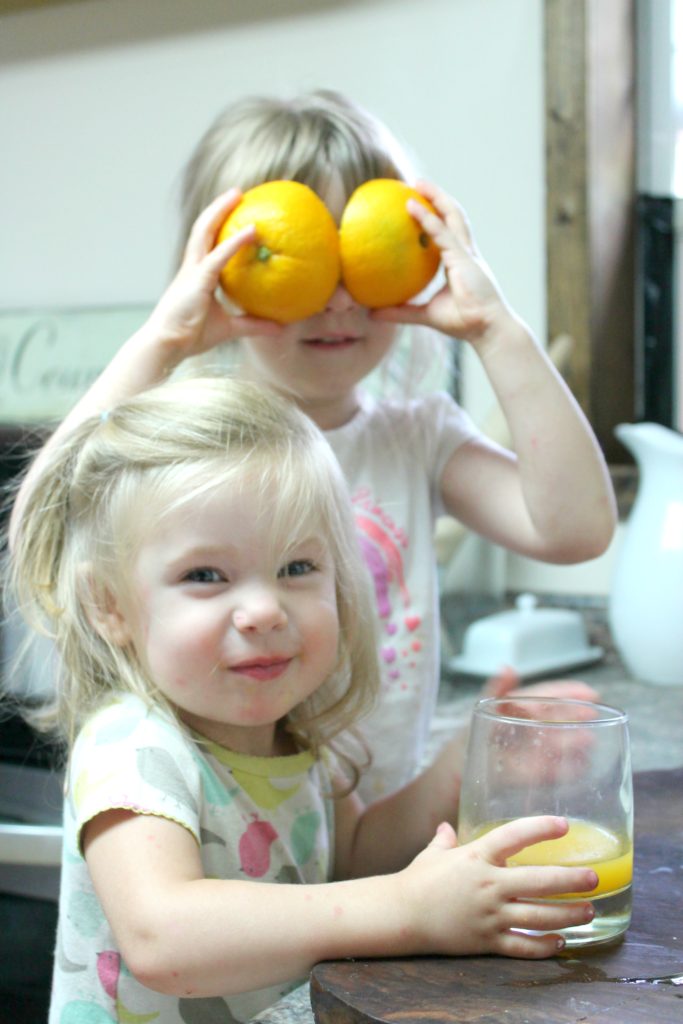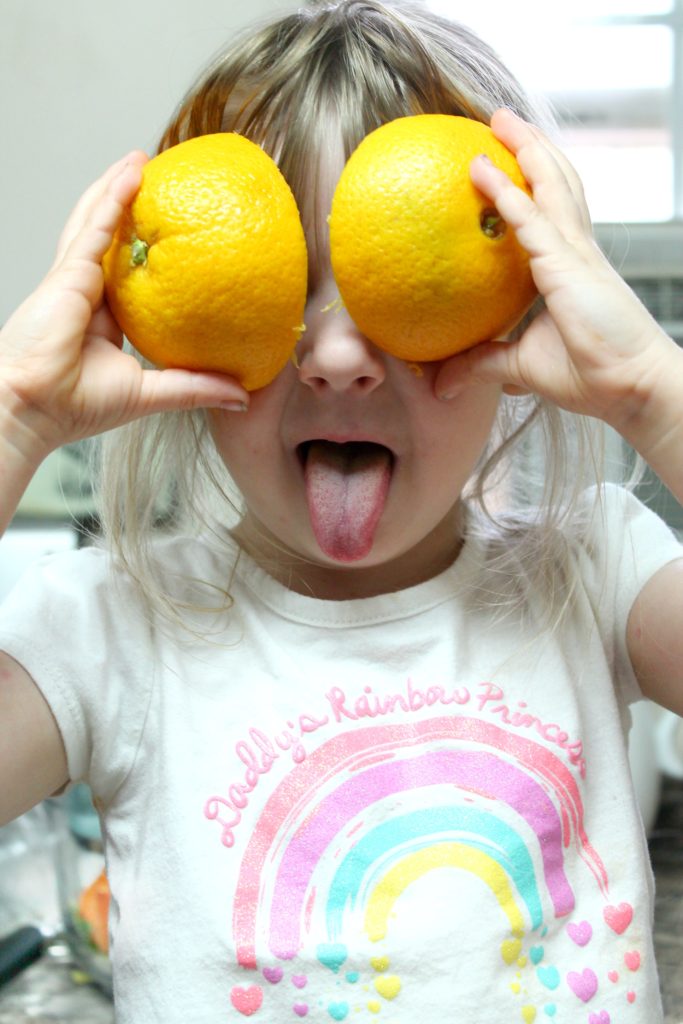 Yeah, none of that made it to the table. Fresh squeezed is way better than any store bought, even the 100% orange juice. I need to do this more often.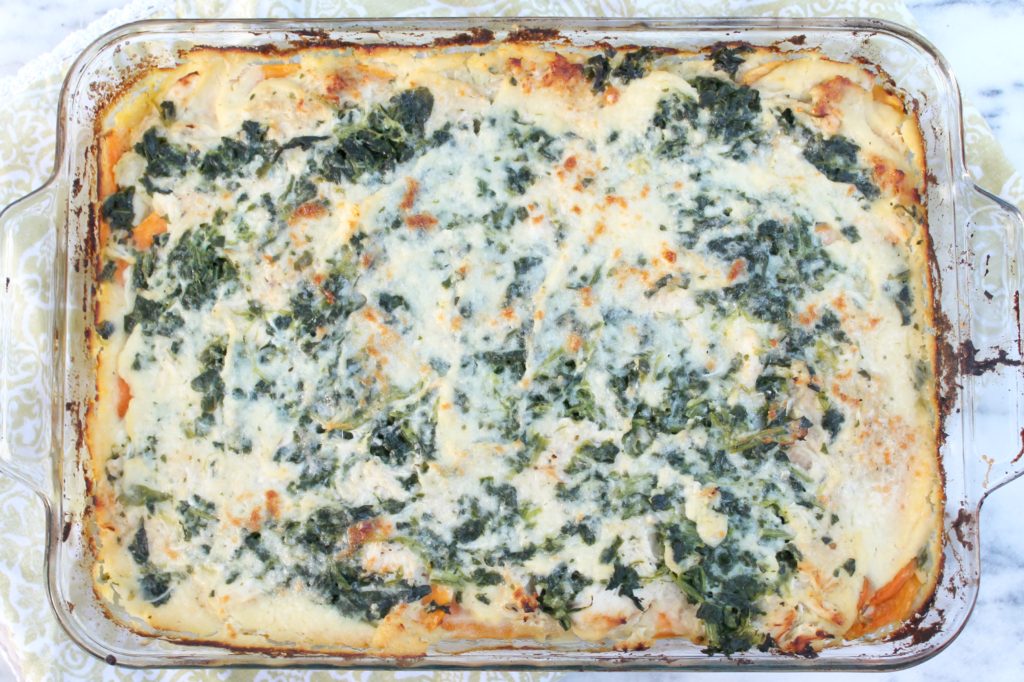 The lasagna was a HIT! My husband loved it, and went back for seconds. I didn't even tell him that there was absolutely no grains or dairy. Or that he just ate about 3-4 servings of vegetables. Or that he ate goat cheese. And he loved it. I win.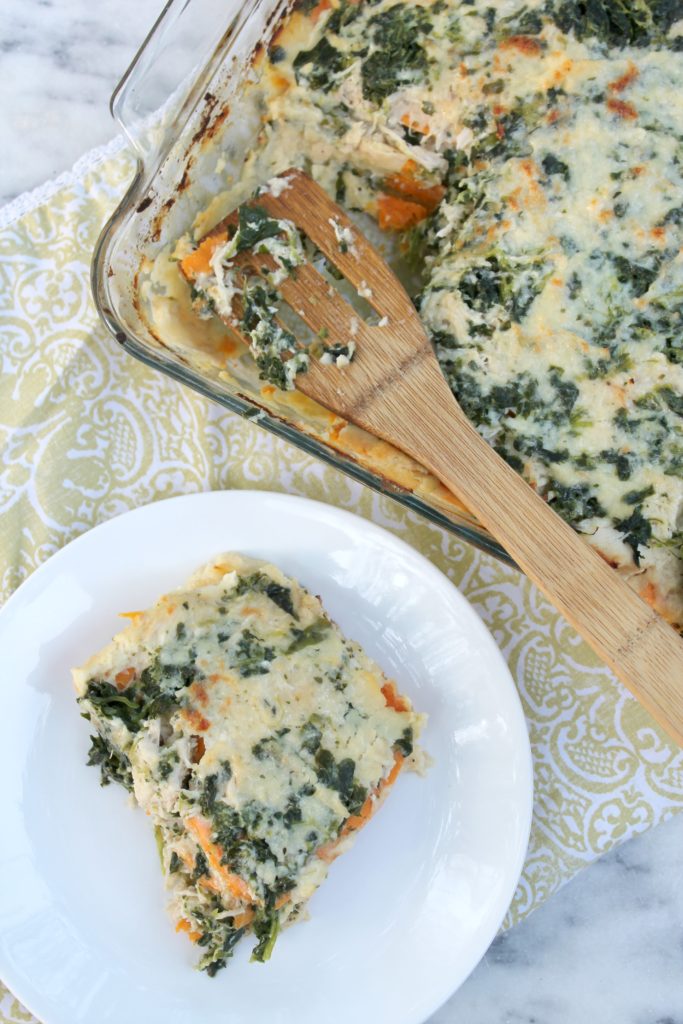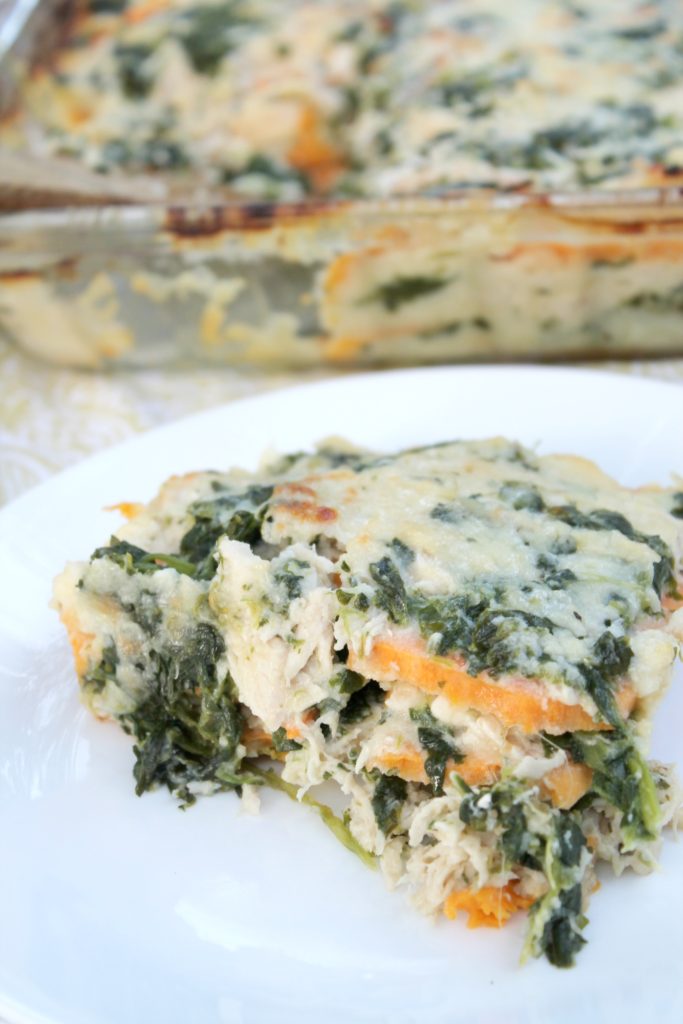 For this Autoimmune friendly, Paleo version of white Lasagna, shredded chicken is mixed with a dreamy herbed goat cheese sauce and layered between sweet potato noodles, spinach, and a cauliflower alfredo. It is so good, everyone will go back for more.

Paleo White Chicken Lasagna
Ingredients
4 sweet potatoes, peeled and sliced lengthwise very thin. Use a mandolin for best results.
1 lb cooked shredded chicken
1 12 oz package frozen spinach, thawed
FOR CAULIFLOWER ALFREDO
1 head of cauliflower
1 onion, chopped
¼ c minced garlic
4 TB coconut oil or organic shortening
1 tsp salt
½ c coconut milk
FOR GOAT CHEESE SAUCE
1 can coconut milk
2 TB honey
1 TB apple cider vinegar
½ tsp salt
½ tsp garlic powder
4 oz goat cheese
1 tsp fresh oregano, minced
Instructions
preheat oven to 375.
FOR GOAT CHEESE SAUCE
in a small saucepan, combine coconut milk, honey, and vinegar and bring to a boil.
Reduce to medium heat and simmer, about 3 minutes.
Stir in salt, garlic powder, oregano, and cheese.
Gently fold in shredded chicken.
FOR CAULIFLOWER ALFREDO
Remove stem from cauliflower and break into florets.
Place in a pot and cover with water.
Boil for 3 minutes until soft.
Drain and set aside.
In the same pot, melt 2 TB oil or shortening over medium heat and add onions.
Cook 2 minutes, stirring occasionally until tender and remove from heat.
Add cauliflower, onions, garlic, salt, coconut milk, and remaining oil or shortening to a food processor.
Blend until smooth.
TO ASSEMBLE
grease the bottom of a 9x13 baking dish.
Layer ⅓ each of the sweet potato noodles, alfredo sauce, Chicken and goat cheese sauce, and spinach.
Repeat 2 times.
Cover with foil and bake 30 minutes.
Remove foil and bake another 15 minutes.
Allow to cool 5-10 minutes before serving.
I was not compensated for this post. Healthy Kids Publishing provided a book for review. All opinions are my own.